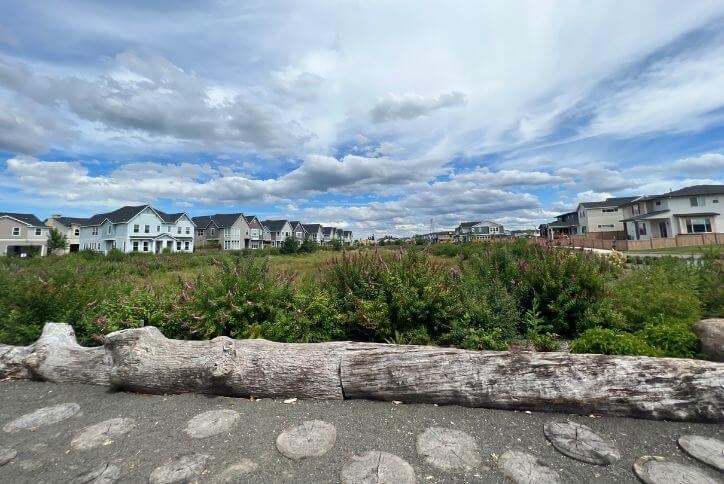 Hillsboro parks & rec: Meet the parks at Reed's Crossing
When you feel like basking in fresh air and sunshine, the last thing you want is to have to hop in your car just to get to a park. And with 80+ acres of planned open space at Reed's Crossing, homebuyers in Hillsboro won't have to. Thanks in part to a partnership with Hillsboro Parks & Rec, we've got you covered with 8 unique community spaces (and counting!), from playgrounds and skateboarding pods to rock climbing and playing with pups.  
Shared green spaces like city parks have been shown to improve air quality, increase property values, boost the local economy, reduce noise, enhance biodiversity, and promote physical and mental wellness. Here in South Hillsboro, we've worked hard to create distinct spaces that offer homeowners the opportunity to get outdoors without having to venture too far from home. Through an interconnected system of parks, paths, and pavilions, there are countless activities for anyone to enjoy—all within a mile of every single home that's built here.
So, without further ado, let's get to know the parks & green spaces at Reed's Crossing!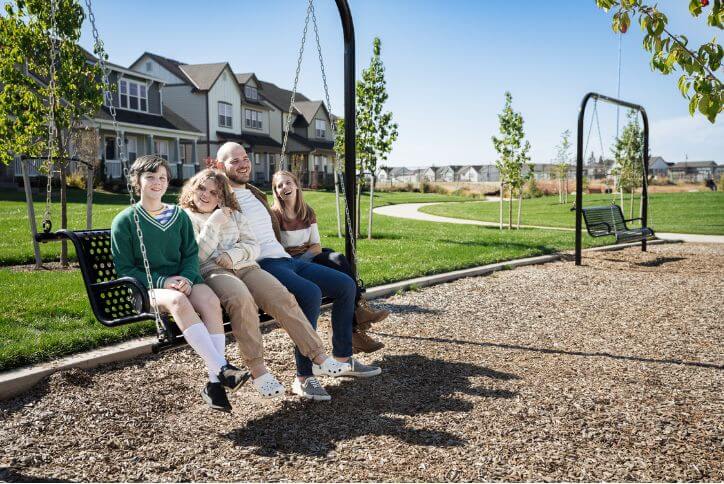 Tamarack Park — The All-Star
Located smack-dab in the center of the community, city-owned Tamarack Park is a favorite of Reed's Crossing residents and Hillsboro locals. Home to Evergreen Skate Pod, a music-themed play area, bench swings, a large walking loop, a bocce ball court, and more, this park is perfect for everything from playing fetch to sunbathing. 
Looking for a spot to kick back and catch up with friends? Take a load off in the bright Adirondack chairs and enjoy a beverage by the wood-burning fire pit. Celebrating a birthday? Host a gathering underneath the pavilion. Many Reed's Crossing events are held in Tamarack Park, and the space is kitty-corner to the brand-new Tamarack Elementary School, providing a great opportunity for outdoor learning and after-school activities.
"Fun park with stuff to play on for big and little kids!" — Google review from Angy Hanson
"A peaceful park [with] party space, children's play area, slides, walking track, swings, skating, picnic area and restrooms. Usually no crowds in the mornings." — Google review from Sivaramakrishna T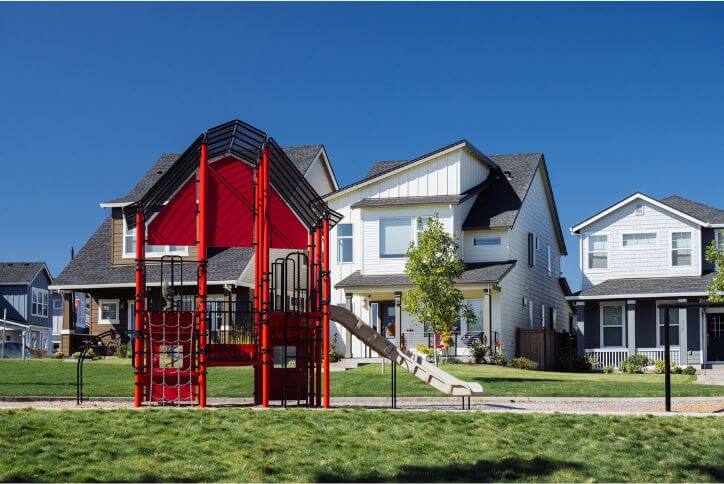 Dobbin Park — The Playful One
Named after a farmer who historically worked the land nearby, Dobbin Park is a smaller park perfect for littles. Located near the corner of Genrosa Street & 69th Avenue, this agriculturally-themed park—nicknamed "Barn Park" by residents—honors its namesake with a playground featuring a red barn play structure and a swingset with both bucket and open swings. With expansive views of the nearby Greenway and bench seating along the surrounding path, Dobbin Park also features a 200-year-old oak tree at its center, perfect for adding a little shade on a sunny day. 
"

Love all these little parks scattered throughout the community!"

—

Google review from Benjamin Tan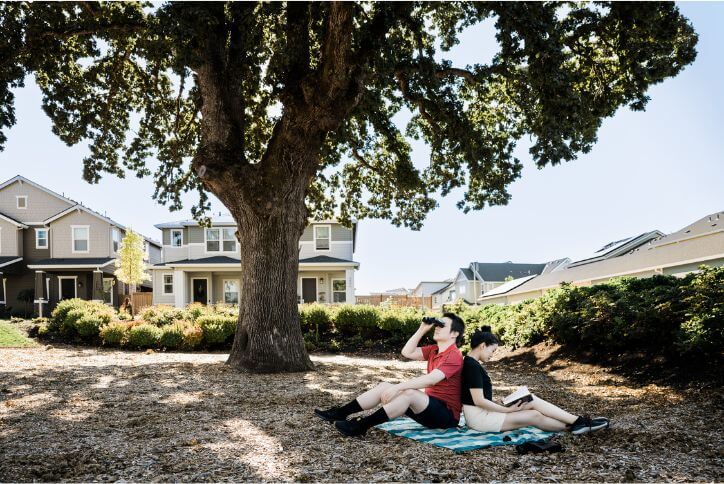 Oak Grove Park — The Introspective One
At just over a half-acre in size, Oak Grove Park sits at the corner of Blanton Street & Salmonfly Lane, close to Providence Health Center. Created out of a preserved oak grove, this park is most recognizable for its three 200-year-old historic oak trees, which are still thriving from the days when Reed's Crossing was a farm. Designed to preserve the natural beauty of the space, this is a more contemplative park perfect for reading, birdwatching, or just relaxing on the reclaimed wood benches. Oak Grove Park is also home to a beautiful art installation celebrating the earliest residents of the community, whose names are immortalized in stone along the base of the tiered seating area. 
"We love the parks in the neighborhood, can't wait to see new ones pop up as building continues." — Reed's Crossing resident Kamae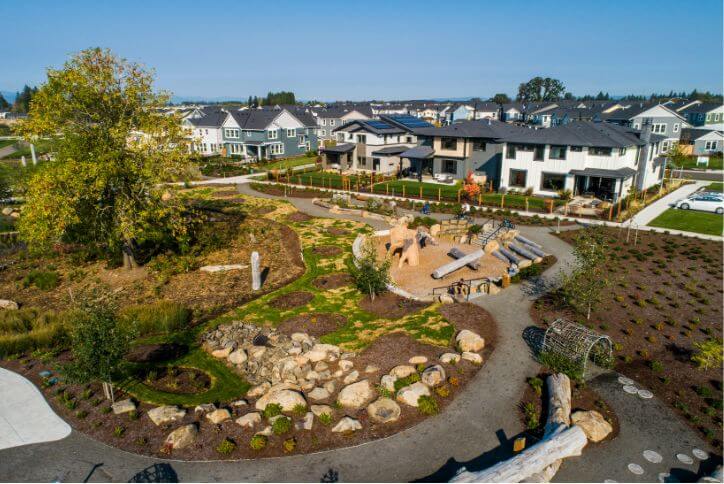 Nature Education Area — The Smart One
Located across from Tamarack Park, the quirky Nature Education Area is designed to teach children (and adults) more about the ecosystems and environment they live in, including educational stations with fun facts about the surrounding wetlands and natural habitats. Check out the Pollination Station to learn about how insects and birds help bring our flowering plants to life, or visit the Water Discovery Station to see how the stormwater ponds throughout Reed's Crossing work. Another fun aspect of this area is the "hidden" items found within—from tiny paw prints in the paths to miniature frogs and snakes buried in the play structures. Kids just love clamoring all over the "fallen logs" to see what they can find!
"Our family really enjoys what the community has to offer as far as the parks, large dedicated walk paths, and biking opportunities." — Reed's Crossing resident Dustin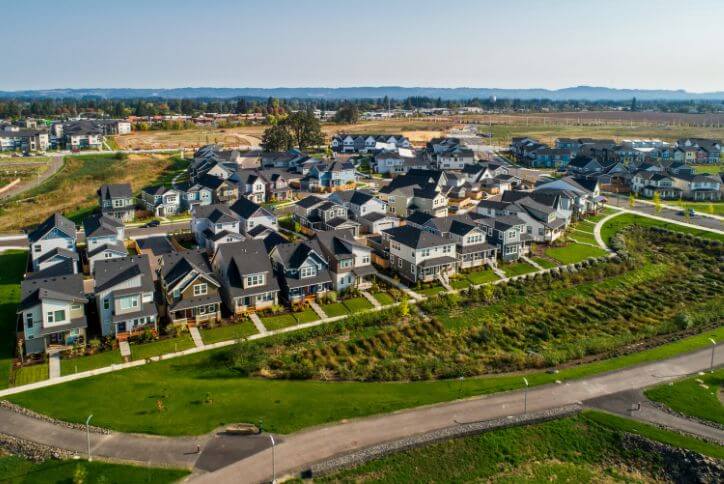 Reed's Crossing Greenway — The Pretty One
Comprising over 36 acres that run through the center of the community, the expansive Greenway is perhaps our most talked-about amenity. Flanked by well-lit paths great for walking, running, or biking, this protected natural area features wetlands that are home to a huge variety of wildlife. Our residents have reported sighting egrets, blue herons, starlings, wrens, hummingbirds, doves, frogs, bunnies, and a variety of ducks—we've even heard tales of a rare blue-billed Mallard! 
The multi-modal path system that threads throughout the community connects everything together—access the parks, take a stroll with your dog, pop over to the Town Center, and more. Whether you're looking to take your afternoon jog or meet some furry friends on a walk, you'll rarely be more than 5 homes away from a walking path at Reed's Crossing.
"We love family walks along the Greenway!" — Reed's Crossing resident Kimberli
"

A great connection to nature and lovely paths to exercise on." — Google review by LaFox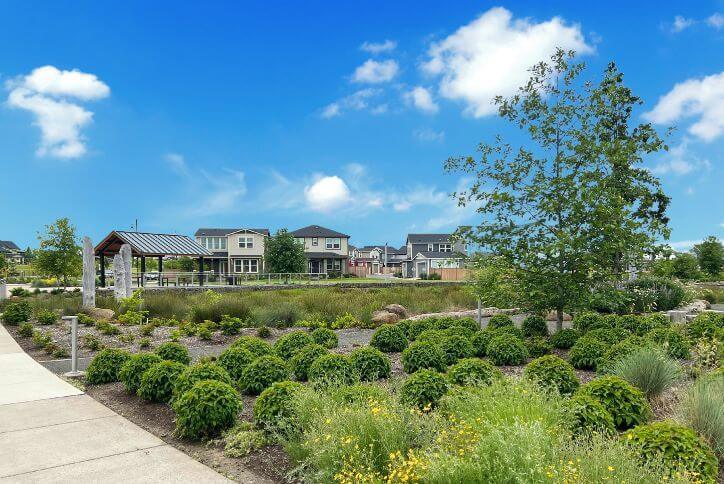 COMING SOON: Three new community spaces opening in 2023
Set to open later this summer with a fantastic kickoff event, the highly-anticipated new city park located off Cornelius Pass Road will feature one of Oregon's first outdoor, man-made bouldering experiences, a great way to get some practice before heading out to Carver Woods or Smith Rock State Park. The area is planned to include 12' high boulders designed for climbing, including signage showing practice routes for different skill sets. The new park will also include an amphitheater for community events, a contemplative garden, a kids play area, and more—yet another great excuse to get outside! 
Additionally, two dedicated community spaces will open nearby: a community garden for residents, and our first dog park! Home to over 176 garden plots, the Reed's Crossing community garden is designed to provide a true farm-to-table experience, featuring outdoor tables with twinkle lights, a fire pit with Adirondack chairs, and shared BBQ stations that run off natural gas. 
The dog park, named My Best Friend's Park, will comprise a half-acre of premium Fido Turf, 100% fenced-in and double-gated, with a cleaning pad and drinking fountains for both humans and animals. The park will also feature a skill-building area, where you can socialize with other pet parents, work on some new skills, or simply have the space for your furry friend to do the zoomies to their heart's content. 
Interested in learning more about Reed's Crossing? Follow us on social, come by for a visit, or learn more about what's coming next. 
Want More Information?
Please click below to contact our team and we will be happy to answer any questions you have!
Contact Us
Categories