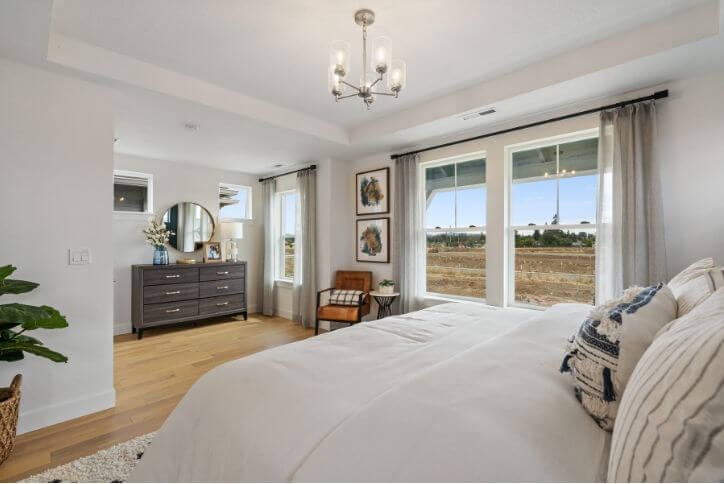 The art of coziness: How to practice hygge
A Danish concept that has taken the world by storm, hygge is all about creating a cozy, comfortable, and inviting atmosphere in your home. And the best part? It's easy to achieve! In this blog, we'll explain what hygge is and how you can use it to cultivate your dream home and unlock your happiest self.
What is hygge?
While it has no direct English translation, hygge (pronounced 'hoo-gah') is a Danish word that describes a quality of coziness and comfort, encompassing feelings of well-being and contentment. We all know the importance of mindful living and taking time out of our busy schedules to just be. But sometimes, that's easier said than done. Adopting a lifestyle trend can be a great way to help you get started, and hygge just happens to be one that perfectly reflects the way we look at life in our community. 
Of course, in Scandinavian cultures hygge is much more than a trend—it is a way of life. Centered around taking time away from the day-to-day hustle to be with your loved ones (and yourself), hygge teaches us to enjoy small pleasures. And what better place to embrace such a concept than your refuge from the outside world? Read on for five simple ways to hygge your home this spring.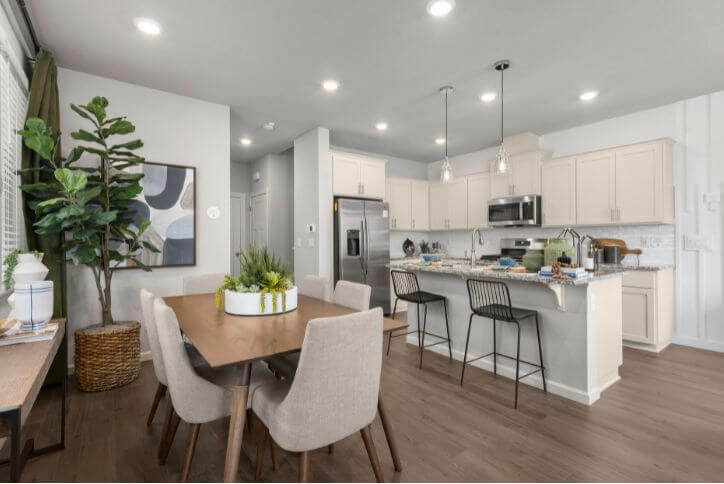 1. Embrace natural materials
In this minimalist trend, the rhythms of the earth and nature are of the utmost importance. While a community like ours abounds with opportunities to get outside, don't forget about adding natural elements inside your home as well—from materials like wood and stone to plants and water accents. 
Pay special attention to the foundational intention of the items in your home; for instance, solid materials like oak, iron, and marble can help anchor you, providing a sense of support as you move through your days. Soft, comfortable textiles are also a must, like plush blankets, pillows, and rugs. By surrounding yourself with these elements, you'll feel warm and content—like your home is wrapping you up in a hug. 
2. Think carefully about color
Color plays a crucial role in the ambiance of a home. Natural, earthy tones are frequently associated with the hygge lifestyle, and are a great way to transform your home into a welcoming space. Deep reds, browns, and golden yellows can help bring about a warm and cozy feel; according to color theory, variations of these colors elicit feelings of happiness, positivity, energy, and stability. 
But don't feel limited when it comes to color! If you're in love with cool colors, the color green has strong associations with nature, and is both refreshing and tranquil, while blue represents the sky and sea, and is associated with freedom and imagination. When you give extra attention to the colors that speak to you, you may be surprised at how much you can change the feel of your space.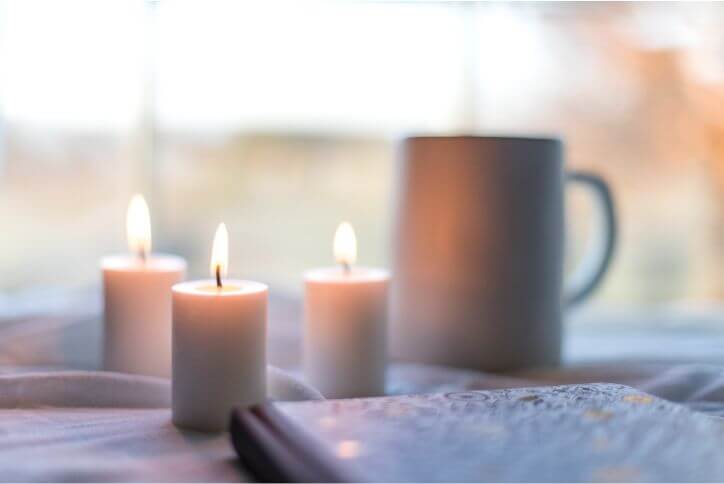 3. Focus on warmth and natural light
Bright, harsh lights can be jarring, and we're looking to create a soft, warm glow. Rather than overhead lights, try floor and table lamps, and incorporate candles or fairy lights to create a cozy, inviting feel. 
You can also experiment with different colors of light, such as warm yellow or soft pink, to create a comforting ambiance. (As a bonus, lower-watt bulbs have the added benefit of being eco-friendly!) In a warmer atmosphere, you'll feel relaxed and content, and you'll be more likely to enjoy the moment.
4. Keep it simple
Remember the foundation of hygge: enjoying the simple things. Unplugging and connecting with family and friends is paramount here, so move away from spaces cluttered with "stuff" and pare down to the things that truly bring you joy. 
To bring fresh energy into your home, think about hosting a game night or a movie marathon. By connecting with loved ones, you'll feel more connected to the world around you, cultivating a sense of community that goes far beyond the walls of your home.
5. Practice self care
Finally, hygge isn't just about home; it's also about cultivating a sense of gratitude and appreciation for everything in life. However you practice self-care—reading a book, listening to music, enjoying local art, spending time outdoors, taking a fitness class, or something else entirely—make a point to carve out time to do whatever soothes your soul. Before you know it, you'll be fully immersed in the hygge lifestyle, feeling happier, more relaxed, and more connected to the world around you.
Looking for a neighborhood that embodies hygge? Take a virtual tour, come by for a visit, or sneak a peek at what's in store for the future.
Want More Information?
Please click below to contact our team and we will be happy to answer any questions you have!
Contact Us
Categories