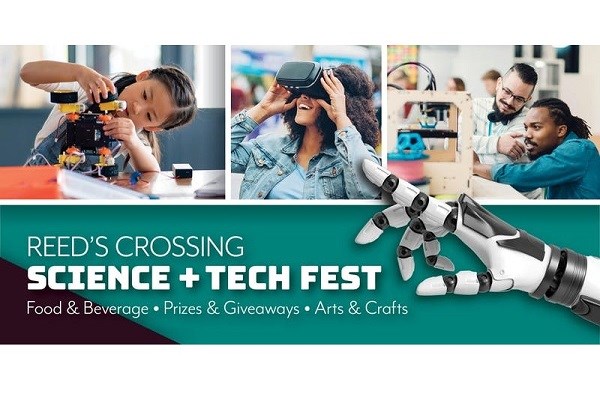 Reed's Crossing Science + Tech Fest
Located in the heart of Oregon's Silicon Forest, Reed's Crossing is proud to pay homage to Hillsboro's thriving, local industry by hosting our 1st Science + Tech Fest – a free, half-day event aimed to inspire and educate your inner geek! Expect a mix of DIY, show and tell, arts, crafts, engineering and science fair projects rolled into one mind-expanding day.
From Education to Innovation
The RC Science + Tech Fest makes STEAM (science, technology, engineering, arts and mathematics) accessible, interactive and best of all – fun! Outstanding educators and students from the Hillsboro School District will be on site to show you how STEAM is incorporated in their classrooms while our vendor partners are offering hands-on activities designed to showcase the diversity of STEAM education.
• Build your own robot
• Check out from reality with a VR/AR experience
• See a 3D printer in action
• Explore some of the newer technologies that are being created right here in Hillsboro
While You're Here
Hop on our virtual reality 3D bike (or choose the seated experience) and "ride" around Reed's Crossing as it will be once fully developed. Then pop around the model home village where our renowned builders will be on hand to answer any questions you may have about new home construction and the innovative technology incorporated into the homes at Reed's Crossing.
If you love science, technology, engineering, art and math, or you're hoping to inspire that love in your littles, don't miss this one – we can't wait to meet you!
Date And Time
Sat, September 28, 2019
11:00 AM – 3:00 PM PDT
Want More Information?
Please click below to contact our team and we will be happy to answer any questions you have!
Contact Us
Categories