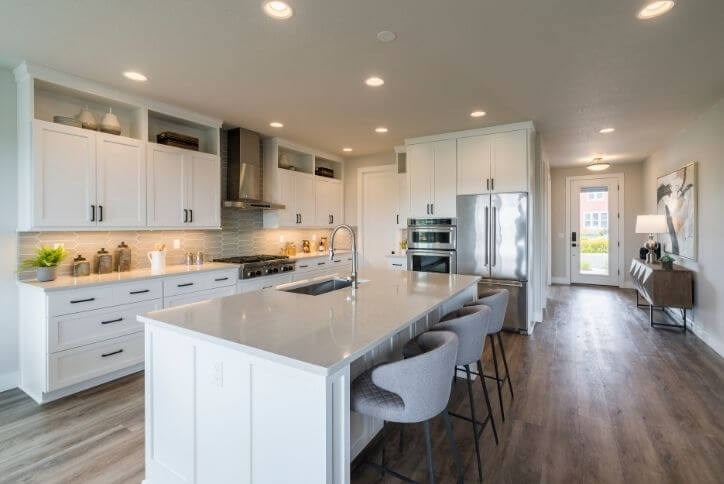 5 Timeless Kitchen Trends
Design trends come and go but none are subject to more whims than the most-loved room in our house—the kitchen—which means you might get sucked into a trend now and then. However, despite the fun of passing fads, here are a few classic kitchen looks that will never go out of style.

1. White on White aka "The Blank Canvas"

All-white kitchens will probably never go out of style – and there's good reason. The monochromatic palette makes it easier to unify cabinets, countertops, fixtures and flooring into a cohesive look. Plus, the neutral color works for all styles, from classic kitchens to modern kitchens–proving this in-demand color remains anything but basic.

2. Different Upper and Lower Cabinet Colors

Paint is a simple way to change the look of a kitchen without the work of a total remodel. A two-tone look creates contrast and allows you to embrace color without going all-in on a vibrant hue. One crowd pleasing idea is to balance a bright or darker color such as blue or forest green with crisp white cabinets on top. By limiting the darker color to below-countertop level, you create a colorful, visually balanced space that feels bright and open.

3. Quartz Counters

Quartz countertops are less expensive and require less maintenance than other natural materials while offering a timeless appeal. Plus, the shimmering surface is less dominant than other materials, making it more likely to blend into the background. Plus, Quartz countertops pair well with both light and dark colored cabinets, so they're easily integrated into any kitchen.

4. Open Layouts/Great Rooms

Kitchen designers "Tear down those walls!" Open layouts are here to stay. A desire for informal dining and comfortable cooking drives this design trend, supporting a casual yet connected lifestyle. Great room kitchen/dining/living room combos encourage interaction and entertainment with a breezy blend of living spaces.

5. Large Kitchen Islands

In an open-layout kitchen, provide the perfect focal point and gathering space. Not only do counter-height islands increase the intimacy of a kitchen, but they also expand valuable prep space. Choose an island with a waterfall edge or overhang to place bar stools for extra seating.

The builders at Reed's Crossing offer a variety of kitchen floorplans as well as design options ready for your unique style. Stop by our Welcome Center today or make an appointment to learn more. We can't wait to meet you!
Want More Information?
Please click below to contact our team and we will be happy to answer any questions you have!
Contact Us
Categories