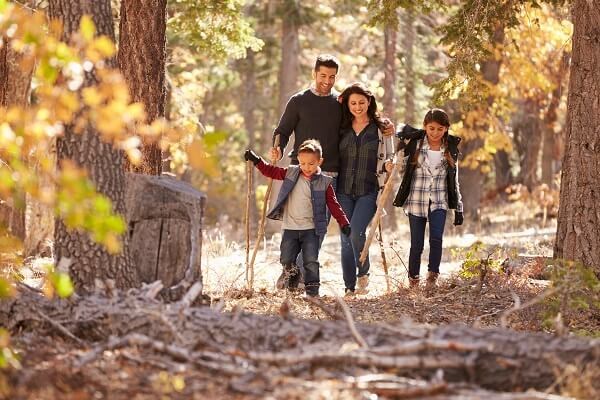 5 Gorgeous Fall Color Hikes in PDX
Autumn is a beautiful time in PDX – the trees come alive in technicolor shades of orange, red, yellow, and purple adding to the greens, blues and browns of the summer months. Finding autumn colors around Portland is as easy as a casual stroll, but if you're looking for more of a physical challenge, we've compiled our list of the five most spectacularly vibrant fall hikes near Reed's Crossing.

1. Silver Falls State Park Located about 60 miles south of Hillsboro, Silver Falls is absolutely worth making a day trip in fall. Though it's gorgeous year-round, Silver Falls State Park is arguably the most stunning during autumn. While you may have to deal with the occasional crowd, your reward will be a dozen jaw-dropping waterfalls framed by branches covered in vibrant shades of yellow, red, orange and green.

2. Hoyt Arboretum If you're looking for something close by, the Hoyt Arboretum is a spectacular choice. The best places to watch colors change are places you find deciduous trees and along the 12 miles of hiking trails Hoyt Arboretum boasts over 10,000 individual trees and plants; including Aspen, bigleaf maple, and western larch – some of the most transformational and colorful trees in Oregon.

3. Maple Trail in Forest Park is perfect for leaf-peeping. According to Portland Parks and Recreation, the bigleaf maple makes up nearly 50 percent of all trees in Forest Park, while the ubiquitous Douglas fir tops out with 20 percent of the trees. The best place to see them is on the 8.2-mile Maple Trail loop hike, which zigzags around the center of the park in a stunning landscape of fall magic.

4. Pittock Mansion Hike The 5-mile round-trip hike from Macleay Park to Pittock Mansion is one of Portland's very best, passing by miniature waterfalls on Balch Creek, the famed Stone House, and a beautiful stretch of Forest Park on its way to the famed 1914 mansion with spectacular views overlooking the city. It's even nicer when the trees alongside the trail and on the mansion grounds turn yellow and red.

5. Portland Japanese Garden While The Portland Japanese Garden in Washington Park is a little light on the hiking, the scenery is second to none. Take a stroll around the garden and see the fall colors as you soak in the serenity and intention put into the meditative landscape.
Want More Information?
Please click below to contact our team and we will be happy to answer any questions you have!
Contact Us
Categories