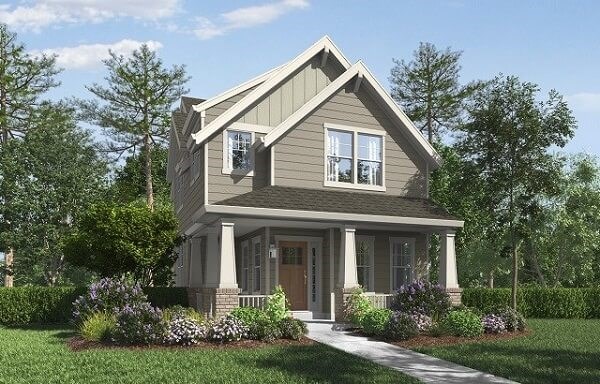 Builder Spotlight: Stone Bridge Homes NW
With a background in environmental law, and following several years in land acquisition and development, in 2006, Kelly Ritz started Stone Bridge Homes NW. Since then, Kelly's company has been recognized as an innovative leader, earning both respect and admiration for their impressive work from delighted home buyers. As one of the Northwest's most prestigious builders, their uniquely designed homes feature classic and timeless architecture with energy-efficient assets.
Primarily a Pacific Northwest builder, with communities in Portland, Forest Grove, Beaverton, Hillsboro, Tigard, Eugene, Central Oregon, and Clark County Washington, Stone Bridge NW is known for its semi-custom, Earth Advantage-certified homes. At Stone Bridge, semi-custom goes far beyond just choosing an A or B option. "What we make are basic, core plans that we've had a lot of success with that we can then customize for a buyer," Ritz explained to Portland Interview Magazine. "We can move walls and we can add windows. We try to do quite a few things. For example, we had a buyer who had some health issues and we designed a house that would facilitate an elevator. We also had a buyer who had an elderly parent and we changed a tandem three-car garage, that could have been a study or something else, to a living space that has a full bathroom and a bedroom with its own separate access."
Stone Bridge Homes NW's natural gravitation to energy-efficient homes has led to their position as a leader in Earth Advantage building in the State of Oregon. Every home Stone Bridge Homes NW builds is not only beautiful and functional inside and out, but achieves these goals with a 100 percent commitment to you.
"At Stone Bridge Homes we care deeply about the satisfaction of our customers," says Ritz. "We build our homes with passion and strive to meet strict quality guidelines. We understand that buying a home is one of the biggest financial decisions of your life, and that it's important to choose your builder with care. We're in the business of delivering our customers their dream home, and if it's not perfect, we want to make it right."

View Available Stone Bridge Homes in Reed's Crossing
Want More Information?
Please click below to contact our team and we will be happy to answer any questions you have!
Contact Us
Categories