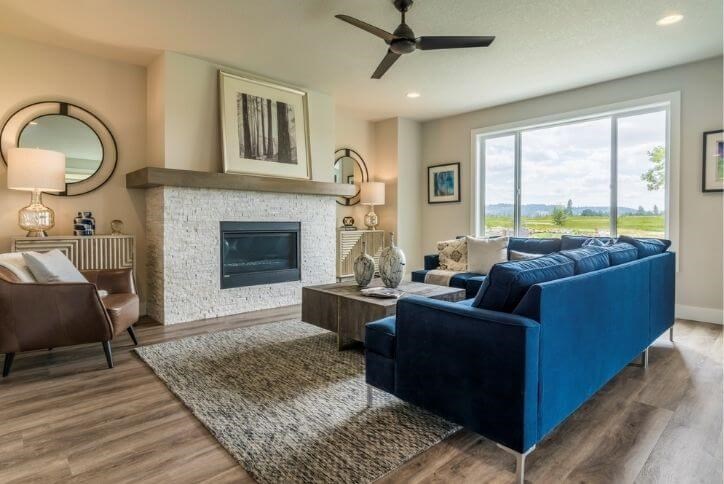 Simple Home Refresh: Decor Tips from Our Residents
When you buy a new house, you're buying a blank canvas that can be personalized to your heart's content. You'll be making design decisions about everything inside and outside of your new space, including where to put furniture, what art to hang, and the best color palettes for each season. The creative possibilities are endless.
However, it can also be overwhelming to start from scratch and decorate a whole new space! So if you're looking for easy, affordable ways to make your new house feel like home, we've got some great design inspiration from our residents.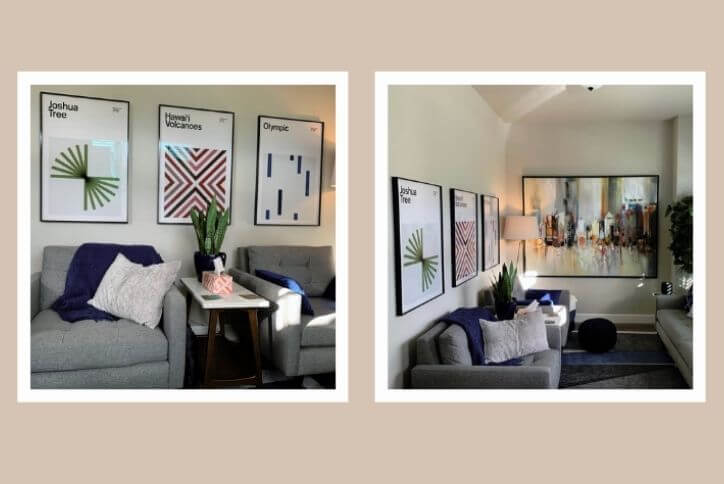 Intentional Design: Custom Room Decor
One simple way to transform your space is by choosing pieces that have special memories attached. Ryan and Christopher brightened up their den by adding prints of three national parks from Granite Press. But the art isn't just a striking conversation starter for visitors to their new home – these three parks have personal meaning in the couple's relationship, serving up happy memories every time they walk into the room. 
Your house is an extension of you and your family, and customized decor can help tell your individual stories, adding an extra bit of personality that ties the room together. Even quirky objects – like metal lunchboxes or snow globes – can become art when displayed as a collection. You can hang your niece's paintings in the kitchen, a limited edition print in your office, or your mother's cross stitch in the bedroom. No matter what pieces you bring into your home, you'll enjoy them more if they tell a story.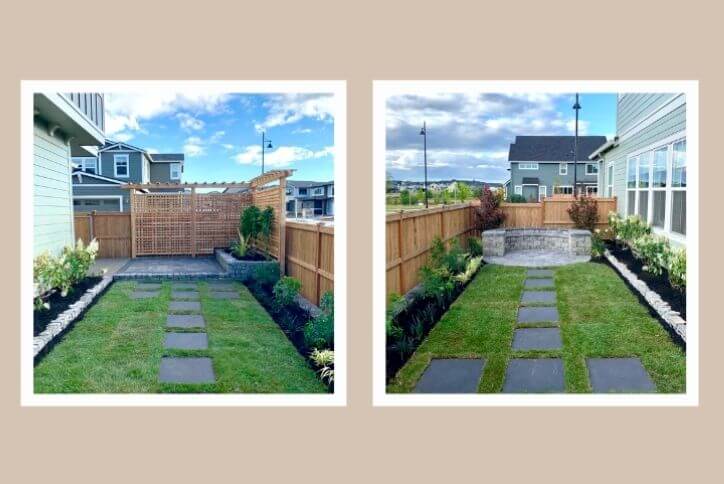 Design Your Own Outdoor Space
While many new homeowners may be focused on interior design tips for decorating a new home, freshening up your outdoor living space can make all the difference in the world. Charlie worked on the landscaping of his tiered backyard to create a cozy, intimate space perfect for entertaining friends and family. By adding custom stone work – including a patio extension, planter boxes, and stepping stones – he was able to transform his outdoor living space with simple and affordable decor that can easily transition through any season, rain or shine.
If you're still stuck on the "How should I landscape my backyard" Google search, start thinking about what you want to be able to do in your space rather than what pieces you should buy. If you enjoy morning yoga, carve out a meditation area with plenty of room to stretch. If you're a self-proclaimed pitmaster, set up a barbeque station where all your tools are close at hand. Whether you want a spot to grow your collection of plants or watch the sunrise with a cup of joe – or all of the above! – plan your yard design to fit your lifestyle.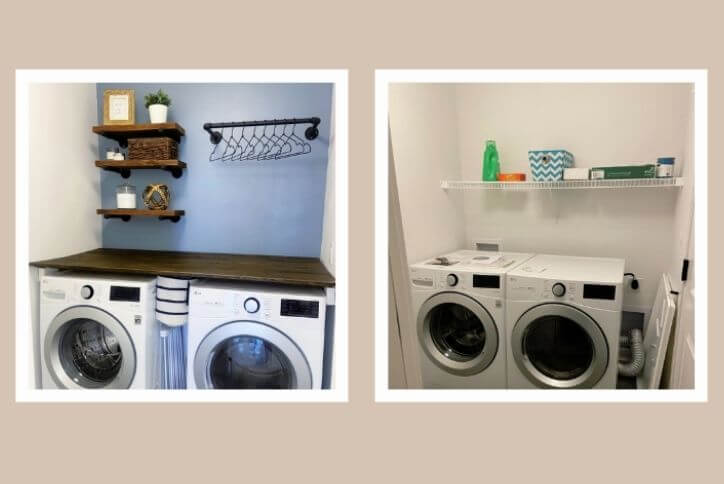 DIY Weekend Projects
One of the best ways to personalize your house is with simple, affordable DIY projects. Not only is this a great way to save some money, it's also just plain fun – and you'll learn some new skills along the way! Brooke wanted to bring more functionality to her laundry space while also adding personal design touches, transforming a plain white room into a place where she's actually excited to do laundry. With a custom drying rack, floating shelves, and butcher block counter over the washer and dryer, this is great inspiration for a DIY project your guests will never be able to tell you did yourself.
Rolling up your sleeves and embracing DIY culture is a great way to get to know your new home. There is a wealth of inspiration and tips online, and many DIY projects for beginners are faster, easier, and cheaper than buying a pre-made kit. So if you're feeling like your space could use a bit of a makeover, just go for it! You may be surprised at how even the smallest changes can really pack a punch.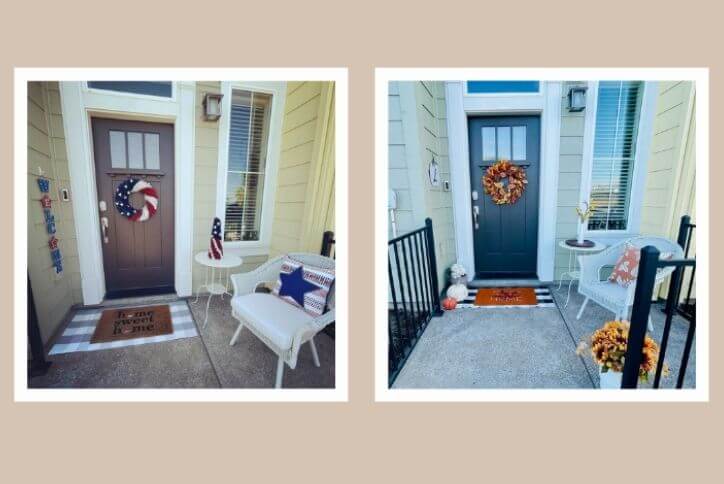 Set the Stage with a Welcoming Entry
Perhaps the easiest way to make a new house feel like home is by decorating your front porch. Just adding a welcome mat, potted plants, and other personal touches will make your home stand out. For Melissa, "one of the best things about home ownership is decorating." Small seasonal decor swaps help keep her house feeling fresh and new, inside and out. So every few months, she changes out her hanging wreath, accent pillow, and other small decor pieces on the porch. 
Since your front porch is the first thing guests see, it should absolutely reflect your style and personality. If you love plants, put them everywhere. If you love your Frenchie, put them front and center on a custom doormat. If you're looking for a way to instantly transform your new house, a welcoming entrance that is uniquely you will make you smile every time you see it.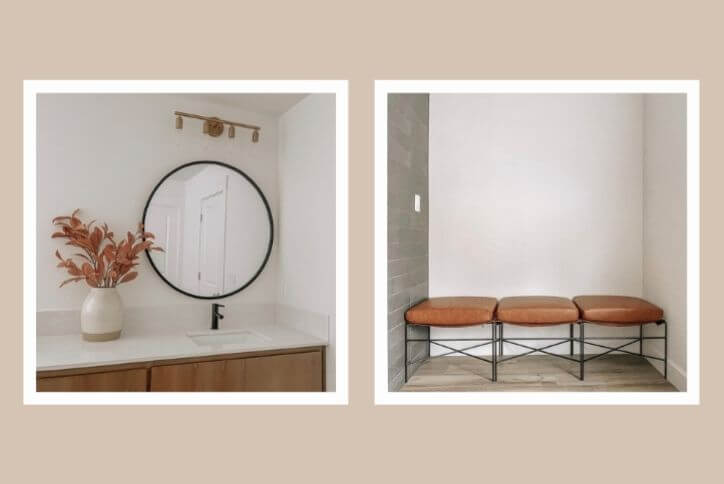 Build Off a Neutral Palette
Many design experts agree that neutrals are the best canvas, as keeping a similar color palette throughout your home pulls all of the spaces together cohesively while also helping statement pieces stand out. Jessica embraced a neutral color palette in her new home because it helps her bold design choices pop and allows her to easily swap out accent pieces, like throw pillows or vases, without worrying if they'll go with what's already there. 
Neutrals are always in style, and they definitely don't have to be boring. With a neutral base, you can easily change out accents as the seasons change, or decorate for the holidays, without disrupting the flow of your home. Just be sure to mix different shades of the same hue, keep contrast in mind, and layer textures and materials for a more interesting, inviting look. 
Are you looking for a new home to bring your decorative fantasies to life? We're open for drop-ins Monday through Thursday from 10am - 5pm, and Friday through Sunday from 10am - 6pm, or you can make an appointment with one of our builders to take a tour and find your dream home today.
Want More Information?
Please click below to contact our team and we will be happy to answer any questions you have!
Contact Us
Categories