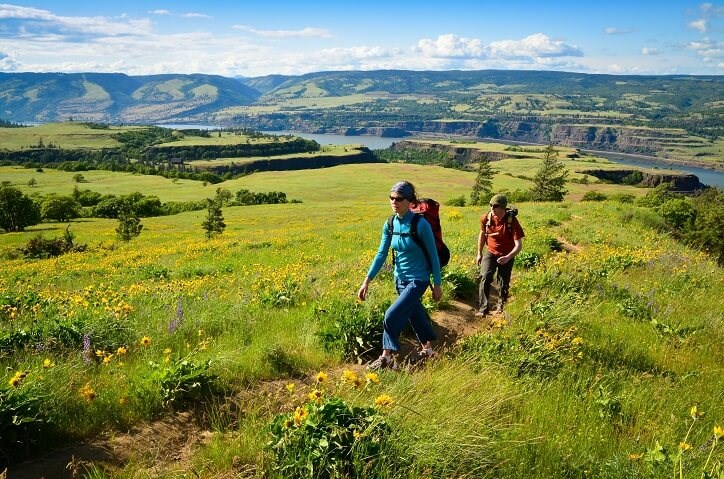 Four Amazing Day Trips from Reed's Crossing
Don't you just love a good road trip? We certainly do! And there are few better places to explore than the many gorgeous destinations around Oregon. Just a hop, skip and a jump from Reed's Crossing you'll discover a variety of amazing landscapes, beautiful beaches, and tons of waterfalls. So grab some snacks and buckle up – it's time to roam!

Columbia River Gorge

Distance: 39 mi / 1 hr 15 min (map)
Things You Can't Miss: Multnomah Falls, Elowah Falls, Wahclella Falls
What to Eat: Sugarpine Drive-In, Pfriem Family Brewers, OurBar

While Oregon has over 200 waterfalls throughout the state, Multnomah Falls is the tallest and easily the most famous. Elowah Falls and Oneonta Falls are also close to Multnomah. Beyond that, the Columbia River Gorge has beautiful views and many other waterfalls to explore.
Silver Falls State Park

Distance: 55 mi / 1 hr 30 min (map)
Things You Can't Miss: Trail of Ten Falls, South Falls, Canyon Trail
What to Eat: Silver Falls Country Store, Frothy Top Roadside Stop, Penezanellie Breadstick Shoppe

This is the largest state park in Oregon and has one of our favorite hikes in the area. It's a relatively easy hike, and you can see 10+ waterfalls on one hike! You can even walk behind four of them for an adventurous Instagram selfie. After tackling the easier hikes in the Columbia River Gorge, this is the perfect next challenge.


Bagby Hot Springs

Distance: 80mi / 2 hr (map)
What to Eat: Harmony, The Grind Coffee House, Old Mill Saloon

Warm your tired bones any time of year! These natural, mineral-rich hot springs have always been a popular spot and the wait time can vary depending on when you go. They are open for 24-hour use and there are three bath houses at the site. There isn't a road to the hot springs, so be ready for the 1.5 mile (easy) hike to get there.


Crater Lake National Park

Distance: 234 mi / 4 hr 30 min (map)
Things You Can't Miss: The Rim Drive, Discovery Point, Sun Notch

This is a bit more of a time commitment but we had to include it as it's absolutely spectacular! Crater Lake is the deepest lake in the U.S. at more than 1900 ft deep and is the seventh deepest in the world. It is fed by rain and snow and has no rivers and streams flowing into it and is considered the cleanest and clearest large body in the world. Stay overnight in Klamath Falls to fully explore the lake or get an early start and spend a full day soaking in the beauty before heading home.
Want More Information?
Please click below to contact our team and we will be happy to answer any questions you have!
Contact Us
Categories