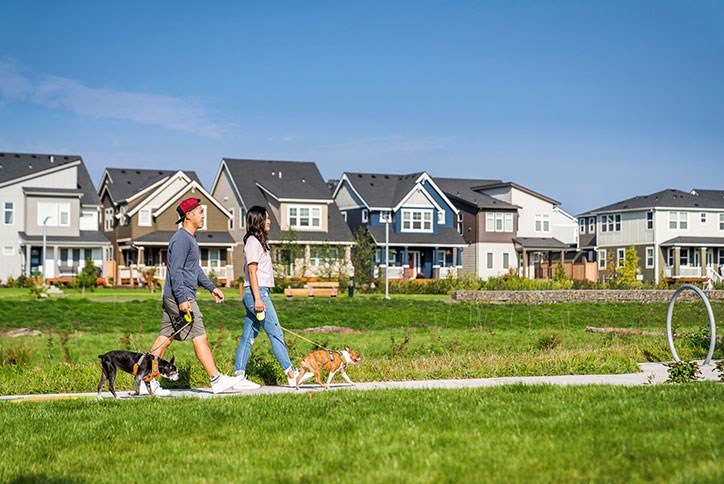 Why MPCs are the New MVPs
Guest post by: Marie Boatsman
Over the past year and a half, everyone's needs have changed dramatically. More than ever before, people are looking for a forever home – not just a temporary one. And in many spots, home shoppers are leaving big cities behind but still looking for a community that offers the same low-maintenance lifestyle and vibrant, bustling feel. 

One such community that my clients keep coming back to is Reed's Crossing in South Hillsboro. The Portland Metro area doesn't have many new master-planned communities, so often locals are unfamiliar with the premise. I explain it like this: a master-planned community has been designed from the ground up to help residents live their best lives, with shopping, restaurants, services, schools, healthcare, and more all located right in the community. Not to mention a bunch of beautiful parks, trails, and greenery to enjoy! 

Here are just a few reasons home buyers are loving this community right now: 
Diverse Home Styles & Floorplans
The suburbs have a rep for being "cookie cutter." Well, that's definitely not the case here! Reed's Crossing offers a variety of styles and sizes from five different builders, all of whom are very popular in the Pacific Northwest. From buyers looking for their first home to eco-conscious individuals who don't want to worry about upkeep and multi-generational families looking for a private space for aging relatives, every shopper is unique. Fortunately, one of the big perks of new construction (in some cases, builder-determined) is that you can customize practically everything about your new home.
A Shorter, Simpler Commute
Whether you're working from home or commuting, the location of your home matters. Many buyers at Reed's Crossing work for Intel or Nike, and travel to work by bike or even by foot! Imagine living just minutes from two of Oregon's largest employers and walking distance from multiple parks, trails and green spaces, a bustling town center, your kid's elementary school, your doctor's office, and more. You'd practically never have to get in your car again – which is something that appeals to buyers a lot more than it used to.
Less Competition
What if I told you that buying a home in a master-planned community can mean less competition for you? Sounds amazing, right? While the resale market can lead you into a bidding war with 10+ other buyers, many of my clients have locked in their dream homes at Reed's Crossing with zero competing offers. Another potential perk of living in a brand-new community! And who wouldn't want their home buying process to be easier, more straightforward, and a lot less stressful?

The fact is, there are lots of reasons buyers are choosing master-planned communities these days. Every time I take a new client to visit Reed's Crossing, I'm amazed by how much it has grown and evolved, and I'm so excited to see all that is still to come!

If you're in the market for a new home, get in touch with Marie Boatsman by calling (503) 550-8477 or reaching out through her website. Happy hunting!
Want More Information?
Please click below to contact our team and we will be happy to answer any questions you have!
Contact Us
Categories