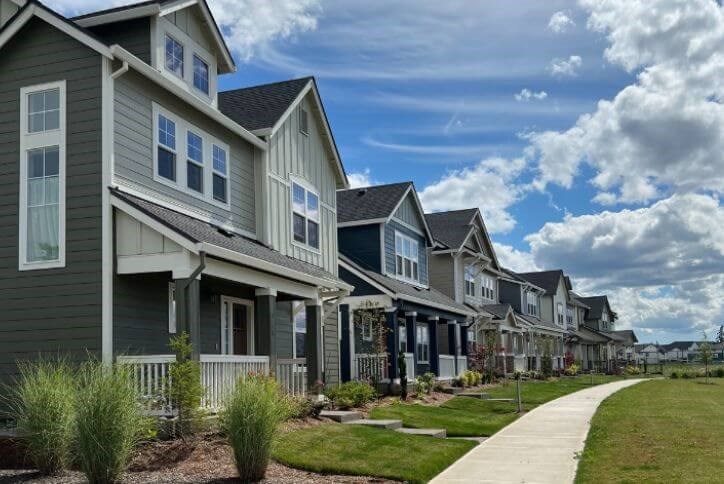 5 Reasons to Buy a New Construction Home in Hillsboro
Resale market got you down? Consider the many benefits of new home construction instead.

Whether you're a first-time homebuyer or real estate investor, buying a home is a big decision. Add resale vs. new construction to the mix, and it gets more complex. Yet through the years, real estate surveys have shown that nearly half of Americans would prefer a new construction home over a pre-existing one.

Above all else, quality of construction is the number one attribute for homebuyers when they're ready to purchase a new home, according to NewHomeSource. Beyond that, there are five key areas where new construction differs from the resale market:


Buyer competition
Home design
Energy efficiency
Community amenities
Home maintenance
#1 Say Goodbye to Competition
These days, realtors we work with say it isn't unusual to see 10+ buyers bidding on the same home. But buying new construction is less likely to lead you into a bidding war as the buying process tends to be easier, more straightforward, and less stressful. So, instead of getting attached to "what could be" in a resale home, you can focus on "what will be" in your brand-new home.

You are also more likely to find builders that offer perks, incentives, or promotions, ranging from locked interest rates to appliance packages, or even a buying credit when you use a preferred lender. Unlike a pre-existing home, your new home may come with a builder's warranty to help reduce the stress of potential repairs down the road; according to the Federal Trade Commission, "most warranties on new construction cover siding and stucco, doors and trim, and drywall and paint during the first year, while coverage for HVAC, plumbing, and electrical systems is generally two years."

When you've been used to renting, you have to shift your mindset to start thinking in terms of decades instead of months. We all know that, as properties age, they require more upkeep. But when you buy in a new-home community, you can feel confident your home will likely increase in value. Homes at Reed's Crossing, for instance, are forecast to increase dramatically once the proposed Town Center is complete, so buyers who get in on the ground floor will likely find themselves reaping the benefits a decade or two from now.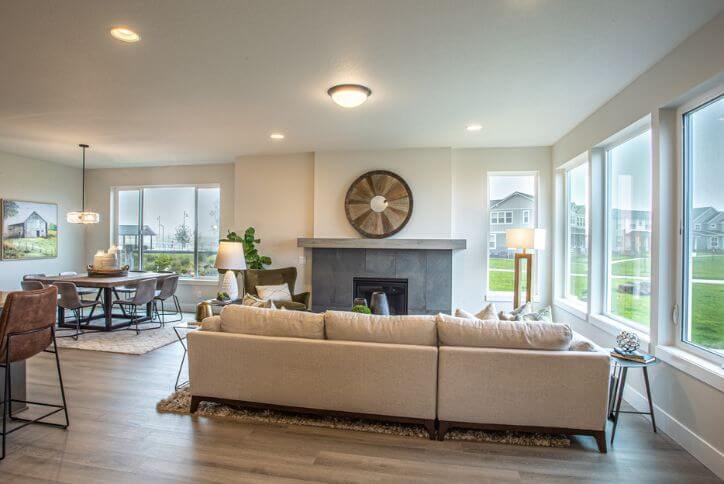 #2 Built to Suit You
Many of us have the idea that new construction or the suburbs are "cookie cutter," but these days, that's often far from the truth. Here in South Hillsboro, our new community was intentionally designed to feature a variety of home styles and sizes from five very different builders, all of whom are popular throughout the Pacific Northwest. From hyper-modern Japanese designs to that classic Craftsman look, you'll find the streetscapes at Reed's Crossing may look very different than you expect! 

One of the big perks of new construction is that you can often customize just about everything in your new home. So, instead of being forced to live with an awkward layout, you can be part of every design decision, from the initial plan to exterior features and interior finishes. Do you need an office right around the corner from your bedroom, or a guest suite that's on the first floor? Not a problem. In fact, many of our builders even offer complimentary design services, like David Weekley or Richmond American, to help homebuyers dream up their new house.

Not to mention that new home construction is a sanitary solution for homebuyers. Your new home is the cleanest it will ever be!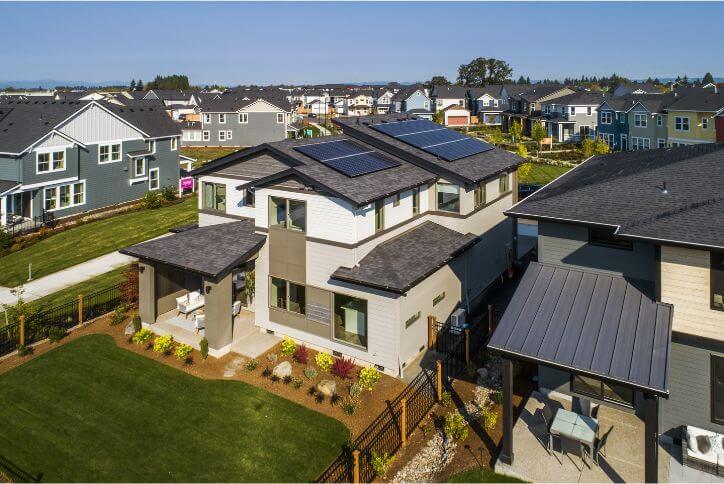 #3 Energy Efficient Homes
Since opening in 2019, we've had several residents comment on how much lower their utility bills are, as energy efficiency continues to be a hot topic for U.S. homeowners. We've seen that eco-conscious homebuyers are more inclined to shop new construction, since these homes boast modern materials and often come with integrated smart home appliances that make it easier than ever to save energy. Here at Reed's Crossing, for instance, all new homes are designed to be solar-ready and electric charging station-ready. 

New homes are typically more energy-efficient than older homes thanks to modern insulation techniques and better-designed windows, which help create spaces that are less expensive to heat and cool. And, especially in the summer, we're finding a lot of shoppers who balk at the idea of buying a home without air conditioning in the PNW. Statewide, less than half of homes in Oregon have central AC. With an older home, you could be looking at a hefty charge just to stay comfortable during those hotter months.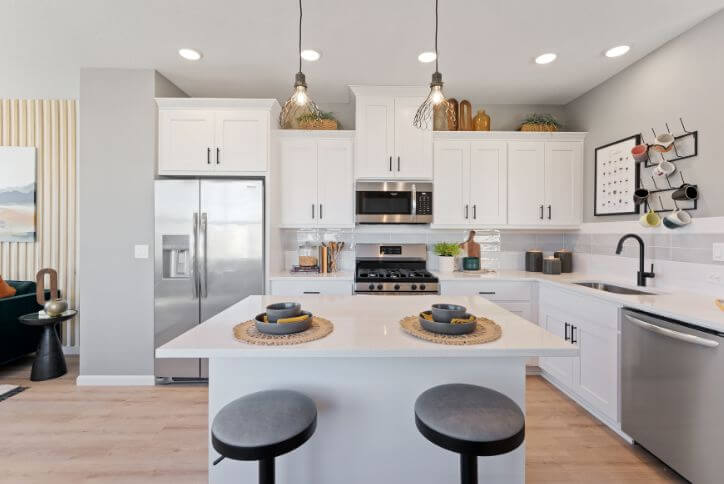 #4 Centered Around Community
More often than not, master-planned communities are centered around the people who live there. When you're browsing resale listings, you may come across a gorgeous home – then discover there's really not much to do nearby. Conversely, new-construction or master-planned communities often have a substantial number of amenities you just won't find on the resale market. When complete, Reed's Crossing will encompass multiple parks, a multi-modal system of interconnected walking & biking paths, community gardens & gathering spaces, public schools, an innovative Providence/Active Health Center and a planned Town Center with food & retail options including Oregon-based grocer Market of Choice.

And, your voice matters. From the very beginning, we have been gathering feedback from our residents to learn more about their wants and needs, and this feedback directly affects what's to come in future phases. That's something a 'regular' neighborhood just can't offer you!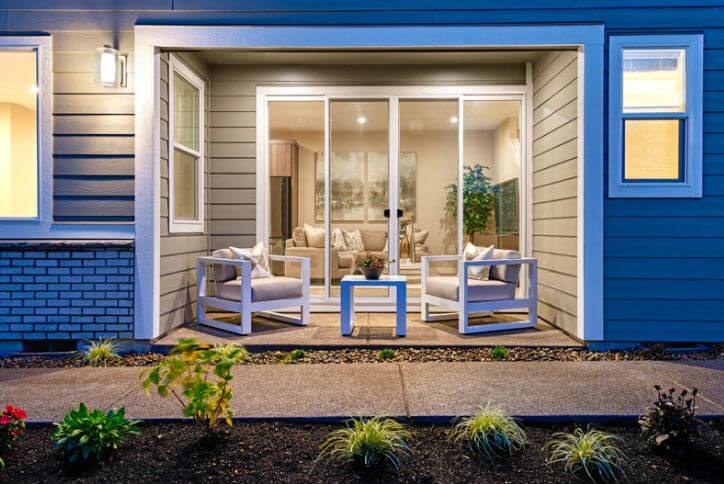 #5 Ease of Maintenance
As a new homeowner, particularly if you're transitioning from renting, you may be dreading the idea of creating a home maintenance checklist. But that doesn't have to be the case! A new-construction community can help slash that checklist in half. Since everything is new, it will naturally require less immediate maintenance and, at Reed's Crossing, your homeowner's association covers front yard maintenance, including things like mowing and weed pulling. 

With pre-existing homes, the biggest unknown is: how did the previous owner care for this home? Did they fix any issues right away, with quality materials? Or did they do a slapdash job with repairs? With new construction, you don't have to worry about decades of previous owners – because the only owner is you!

Are you ready to find your brand-new home in South Hillsboro? Take a virtual tour and sneak a peek at what's in store for the future.
Want More Information?
Please click below to contact our team and we will be happy to answer any questions you have!
Contact Us
Categories