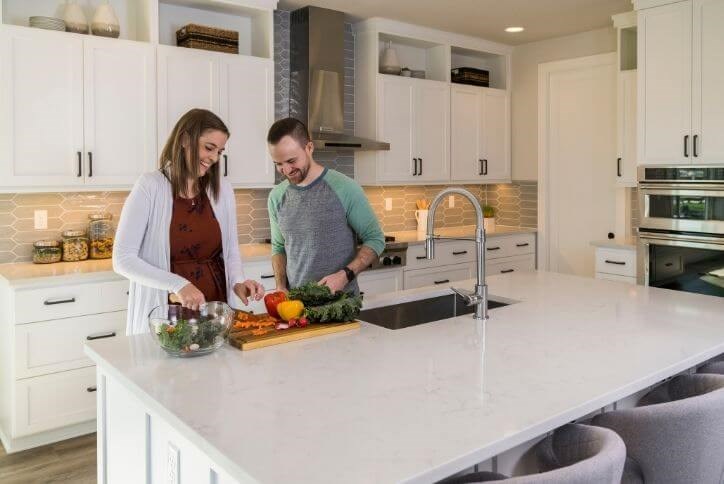 4 Romantic Date Night Ideas at Home
Whether you're happily married and looking to spice things up or still buzzing from the glow of a new romance, these creative Valentine's Day activities prove that you don't have to go out to have a great time.

1. Go on a Late Night Picnic

Not only does a late night picnic allow for sweet romance (what's better sipping a glass of wine under the stars??) it's also super easy to arrange, even last-minute. Best of all, you only need to venture into your backyard to find the perfect picnic spot. Too cold or bad weather? An indoor picnic is great too, and can be combined with building a cozy blanket fort. Make sure you grab yummy snacks. Cheese, crackers, fruit, and other finger foods are perfect for a picnic. If it's chilly out, bring blankets, wine, and light a fire if possible.
2. Play "Would You Rather" Jenga

Come up with your favorite racy/funny/silly questions and write one on each Jenga block. When you play, whichever block you pull, you'll have to answer the question written on it. Set a super romantic mood by shutting off the lights and playing by candlelight.

3. Turn Your Home Into a Private Concert!
All you need is a projector, a blank wall or sheet, and a live stream of your favorite band. This is especially cool if it's happening in the moment or revisit concerts of bands you wish you were there to see. Queen performing at Live Aid (1985), anyone? Don't forget the red Solo cups and a lighter for the slow songs ;).
4. Have a Video Game Tournament
Face off with your favorite multi-player games but this time put a little something on the line. Bets for future kisses and hugs are always a crowd pleaser but how about who takes the trash out next or who will brave the cold and wash the car? Tailoring your game night with extra special stakes ups the fun for both of you.
Want More Information?
Please click below to contact our team and we will be happy to answer any questions you have!
Contact Us
Categories