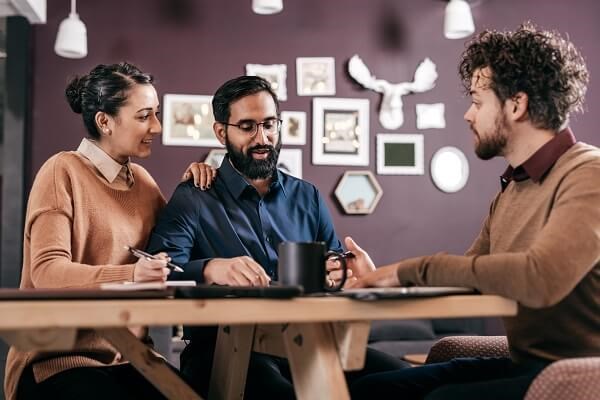 Which New Home Loan is Right for Me? Here are Three to Consider
Buying a new home is exciting, but figuring out the financial aspects can feel overwhelming even to a savvy consumer. But don't fret - a bit of research goes a long way. Once you've nailed down a budget, down payment amount and gotten familiar with your credit score, you'll have a better idea of which loan will work best for your situation. With just a little homework and tenacity you'll soon be moving into the home of your dreams!
For the majority of home buyers, three common loans are typically considered : conventional, FHA and VA. Each loan type comes with a different set of qualifications, benefits and drawbacks and you should always consult your financial advisor to ensure the loan you are choosing provides you the greatest benefit.

Conventional loans: Conventional loans are, by far, the most popular type of mortgage for all homebuyers. The U.S. Census Bureau reported that conventional loans made up 73.8 percent of new home sales in the first quarter of 2018, the highest share in a decade. A conventional mortgage is a home loan that's not insured by the federal government. They are backed by the mortgage lender themselves, so if you don't make your monthly mortgage payments, the lender loses money on the loan. These can be more difficult to qualify for, and usually require higher down payments than government-backed loans. There are two types of conventional loans: conforming and non-conforming loans.
Conforming Loans This simply means the loan amount falls within maximum limits set by Fannie Mae or Freddie Mac, government agencies that back most U.S. mortgages.
Non-Conforming Loans Loans that don't meet the loan amount guidelines are considered non-conforming loans. Jumbo loans are the most common type of non-conforming loan.
Federal Housing Administration (FHA) loans: FHA loans are backed by the government, which means the bank is insured by the government. Meaning, if you don't make your payments, the bank won't lose money. The FHA allows borrowers to spend up to 57 percent of their income on monthly debt obligations, such as mortgage, credit cards, student loans and car loans. In contrast, conventional mortgage guidelines tend to cap debt-to-income ratios at around 43 percent. FHA loans require a down payment of as little as 3.5% and borrowers can qualify with credit scores of 580, making them an attractive option to many potential borrowers.
Veteran's Administration (VA) loans: VA loans are backed by the Veteran's Administration. How do these loans make it easier for our country's veterans to purchase a home? No down payment is required from borrowers buying primary residences. The VA charges an upfront funding fee, which can be rolled into the loan or paid by the seller. The funding fee varies from 1.25 percent to 3.3 percent of the loan amount. The VA allows sellers to pay closing costs but doesn't require them to so the buyer may need money for closing costs.
What's the Next Step?
Now that you're familiar with the basics on conventional, FHA and VA loans, stop by the Reed's Crossing Welcome Center to learn more about the community, tour models by our award-winning builders and discover how you can make Reed's Crossing home.
Want More Information?
Please click below to contact our team and we will be happy to answer any questions you have!
Contact Us
Categories