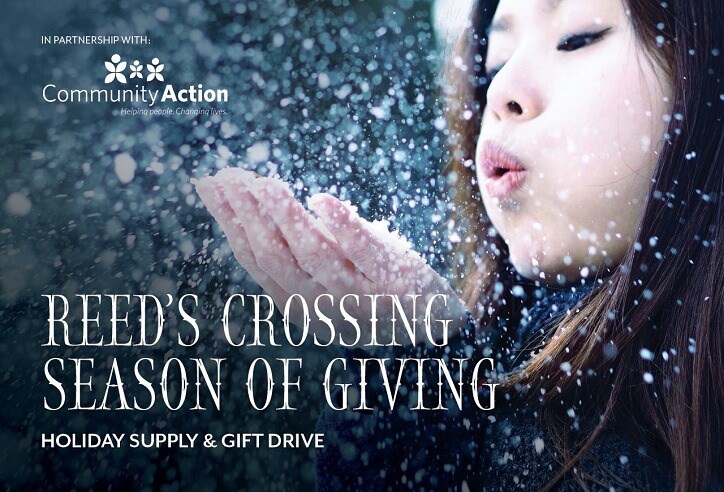 Reed's Crossing Partners with Community Action
As we gear up for time with family and friends, it's important to remember there are others who could use a bit of holiday magic this time of year. Join the Reed's Crossing Season of Giving as we proudly partner with Community Action to provide hope and help to hardworking families throughout Washington County. From Dec. 1 to Dec. 31, stop the Reed's Crossing Welcome Center with an unwrapped donation and leave knowing you've shared a little fairy dust with those who need it most!

Needed Items:

· Household items
· Cleaning kits
· Small kitchen appliances
· Camping gear
· Gift cards
· Clothing/shoe stores
· Personal care kits
· Toys
· New Pajamas (all sizes, ages 8-18)
· Family Board Games
· Science/STEM Kits
· Sports Equipment
· Arts & Crafts Supplies
· Clothing (Please, no used clothing or coats/jackets!)


Helping People. Changing Lives.

Community Action changes people's lives, embodies the spirit of hope, improves communities, and makes Washington County a better place to live. Dedicated to helping people help themselves and each other, Community Action cares about the entire community, and is leading the way to eliminate conditions of poverty and create opportunities for people and communities to thrive.
Want More Information?
Please click below to contact our team and we will be happy to answer any questions you have!
Contact Us
Categories