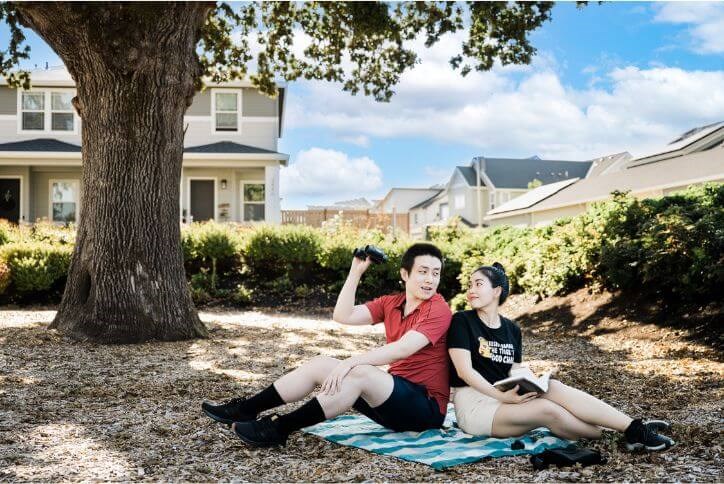 Jobs in Hillsboro + 3 more reasons millennials are heading for the suburbs
The habits of millennials have been a hot topic in the media over the years—hardly surprising since they are now the largest generational group in the United States. People love talking about them, whether that be their workplace & job needs, their social media habits, or their shopping tendencies. And for quite a while, the news was full of dire predictions about how they would kill the housing market—which has since been proven to be totally false. So when it comes to finding their dream home, what matters to these homebuyers? And why? 
What makes a millennial? 
To understand what makes millennials tick, it's important to understand who we're talking about. Also known as Generation Y, the term covers those born from 1981 to 1996. It was long thought that they would be the generation that stuck to the cities, choosing renting over buying and hopping from place to place. But it turns out that's not the case; in 2020, 48% identified as living in the suburbs, up from 44% the year before. 
Data shows this age bracket is more than ready to settle down, as long as they find a community where they can thrive—particularly when it comes to jobs and walkability—in a movement the New York Times calls "hipsturbia." So we did the research, including polling our own residents, to find out the top reasons millennials are flocking to the suburbs of Portland.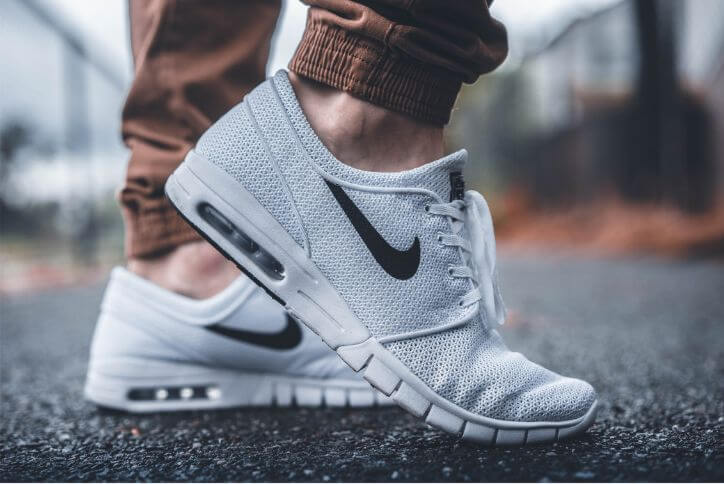 1. Access to jobs and remote work
For many, access to jobs is of the utmost importance when looking for a new home. When you search for jobs in Portland, you'll find that many of Oregon's biggest employers are actually located in Hillsboro, a suburb about 17 miles from downtown, including the Nike world headquarters, multiple Intel campuses, and popular companies like Salesforce, Laika Studios, Oregon Health & Science University, Kaiser Permanente, and Tuality. As one of the first highly tech-savvy generations, millennials tend to frequent jobs in tech, making the Silicon Forest a match made in heaven. 
As an added bonus, many of these companies are within walking or biking distance of a popular new-construction housing community—for instance, Reed's Crossing is located less than 5 miles from Nike and Intel, both major employers of our residents.
Additionally, Hillsboro is a great hub for those interested in remote jobs in Oregon. As it becomes clear that the shift to remote/hybrid work is here to stay and there is less of a need for workers to have a physical presence in the workplace, savvy homebuyers are realizing they can live anywhere they want. Many of our residents spend their days working from their home office, a sunny backyard, or even toting their laptop to one of our five parks for little quality time outdoors.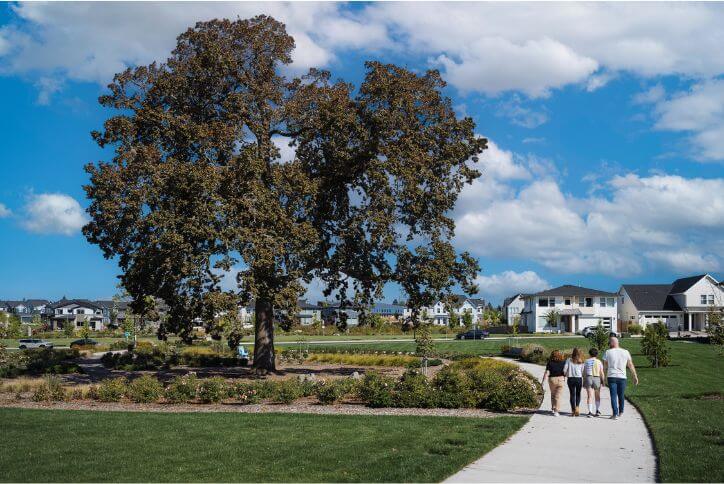 2. Walkability and outdoor space
In a recent Instagram poll of our millennial residents, a whopping 72% said a walkable neighborhood is a must when shopping for a home. Unlike many older neighborhoods—some of which don't even have sidewalks—ensuring walkability was of major importance in the conception of Reed's Crossing. Our award-winning land plan means that everything within the community will be less than a mile from every resident's door—including the Providence Health Center, Active Wellness Center, Tamarack Elementary School, and the planned Town Center, future home to Market of Choice as well as a variety of shops and restaurants. 
Additionally, access to parks and outdoor space is a huge draw for these homebuyers and Hillsboro's got it in spades, home to more than 30 parks, the Jackson Bottom Wetlands Preserve, and the Greenway, a protected natural area. Reed's Crossing alone has 4x the required amount of open space, and will eventually be home to over 80 acres of green space for the community to enjoy, from city parks to community gardens.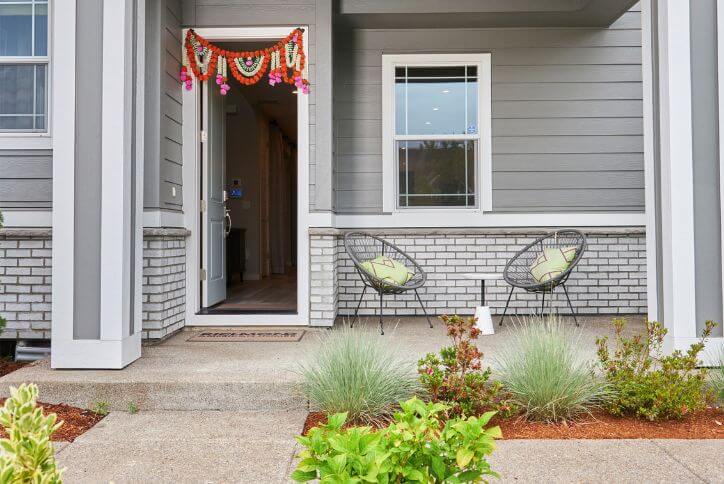 3. Sustainability & eco-friendly homes
When looking for a home, buyers in this age bracket often has a few specific parameters in mind. Data shows they are less concerned with having a large yard, preferring to keep yard work to a minimum and enjoy shared spaces like parks instead. They tend to lean more towards new construction, thanks to its low maintenance needs. They may be looking to start a family, which means finding a home that can grow with them thanks to customizable flex spaces. And they're looking for homes that match their lifestyles and principles, including smart home tech and eco-friendly designs. 
Placing a priority on sustainability, the city of Hillsboro has partnered with the Environmental Protection Agency to become a Green Power Community, with over 50% of the city's electricity usage coming from green power sources. Here in South Hillsboro, you'll find that all homes at Reed's Crossing are required to meet Earth Advantage Silver or equivalent certification, meeting strict standards in five categories including indoor air quality, energy efficiency, and water conservation.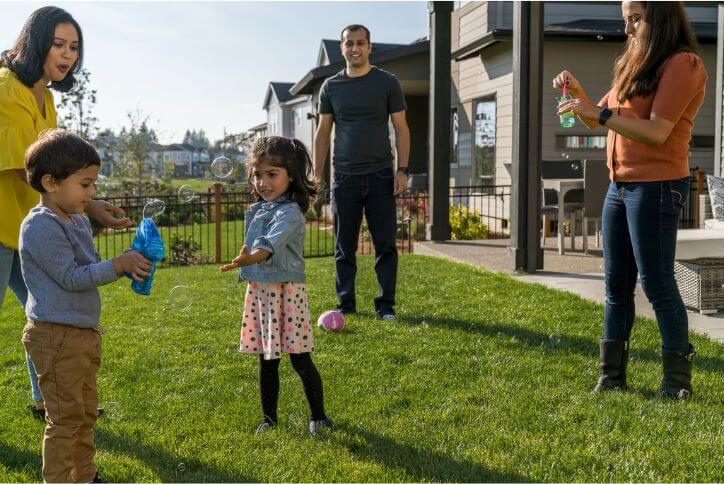 4. A vibrant, comfortable community
Building connections is crucial when searching for a place to settle down, and Hillsboro offers no shortage of community. Ranked twice in Money's '50 Best Places to Live,' thrice in Livability's '100 Best Places to Live,' and named in Bankrate's 'Standout Communities' and CNN's 'Best Small Cities,' Hillsboro continues to gain recognition as one of the best places to live in the US, full of residents that take pride in the diverse and welcoming community they have created. 
Still have questions about life in the suburbs? Take a virtual tour, come by for a visit, or sneak a peek at what's in store for the future.
Want More Information?
Please click below to contact our team and we will be happy to answer any questions you have!
Contact Us
Categories