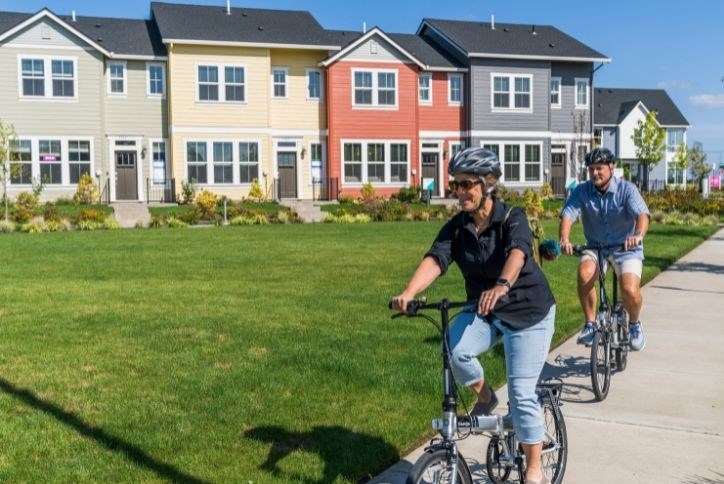 An Insider's Guide to Hillsboro
Twice ranked amongst CNN Money Magazine's Best Places to Live among America's small cities, Hillsboro remains a beautiful, affordable, and safe choice for living in Oregon and is easily the most sought after destination near Portland. With vibrant neighborhoods such as South Hillsboro, Reed's Crossing, Tanasbourne, Amber Glen and its historic downtown district, Hillsboro is a well-planned, affordable hometown with a strong economic future, boasting one of the state's most diverse populations.

A Brief History

Hillsboro has a rich and interesting agricultural history, beginning with the Native Americans that once inhabited the area to the arrival of Europeans and Americans in the 1830s to the growth of Hillsboro to what it is today. This western suburb is now home to about 100,000 residents and boasts tech giant Intel harmoniously integrated next to berry patches and Christmas tree farms. For a detailed history visit this local historical society's site.

Food, Friends and Fun

Oregon is well known in culinary circles as having some of the finest ingredients in the world. From Dungeness crabs and wild salmon to our award-winning pinot noir, Hillsboro's farm-to-table restaurants, wineries like local favorite Oak Knoll, and many breweries specialize in serving up Pacific Northwest flavor that you can't find anywhere else.

For those who love getting together with friends for events, there are Trail Blazer and Timbers' games, outdoor festivals (like the Rose Festival and Washington County Fair), and the legendary Street of Dreams. A few miles away, the Hillsboro Airport is home to the Oregon International Air Show and, year-round, future pilots in training at the Hillsboro Aero Academy.

Hillsboro Farmers' Market

Located in Hillsboro's historic downtown, this seasonal, open air market has been a much loved staple in Hillsboro for over 36 years. Featuring fresh local fruits and veggies, honey, culinary arts and crafts, live music and educational info, over 100 vendors serve eight thousand shoppers every week. It runs from the end of April through the end of October located within the courthouse square, bordering the Hillsboro Library and surrounded by an abundance of cafes and restaurants.

The Silicon Forest

Hillsboro is at the center of Oregon's tech boom ¬– colloquially known as the Silicon Forest, a play on Silicon Valley down in the Bay Area, and software companies are popping up right and left to earn that moniker.

Intel's largest campus is located in Hillsboro along with large employers like; Sun Microsystems, Yahoo, FEI, Credence Systems, TriQuint Semiconductor, Nike, and Salesforce. Hillsboro is also the corporate headquarters for Corillian Corporation, Lattice Semiconductor, RadiSys, Planar Systems and Genentech.

Easy Transportation to Portland and Surrounding Areas

The MAX Blue Line has its terminus in the heart of downtown Hillsboro, where visitors can walk right off the train and stroll to grab a cup at local chain Insomnia Coffee, try on new kicks at 129-year-old Gimre's Shoes, fill up on made-with-love tortillas at Amelia's, or a find an artistic treasure at Perks of Art, a local gallery also offering a variety of craft classes.

Recreation from Mountain to Coast

Whether you're a sun worshipper or snow bunny, a variety of recreational opportunities abound in Oregon! The ocean is less than a two-hour drive to Hillsboro's west, while Mount Hood is about the same distance to the east, offering year-round activities, from skiing and snowboarding at popular spots like Skibowl in winter, to hiking, swimming, hunting, and fishing in the spring and summer. For some high desert fun, Bend is about a three-hour drive where you'll find local breweries, white water rafting, windsurfing and tons of other outdoor activities year-round.

Hillsboro Parks & Recreation serves the community by bringing a wide range of opportunities for recreation and education to our citizens as well as providing beautiful parks, sports complexes, and natural spaces to explore.
Want More Information?
Please click below to contact our team and we will be happy to answer any questions you have!
Contact Us
Categories