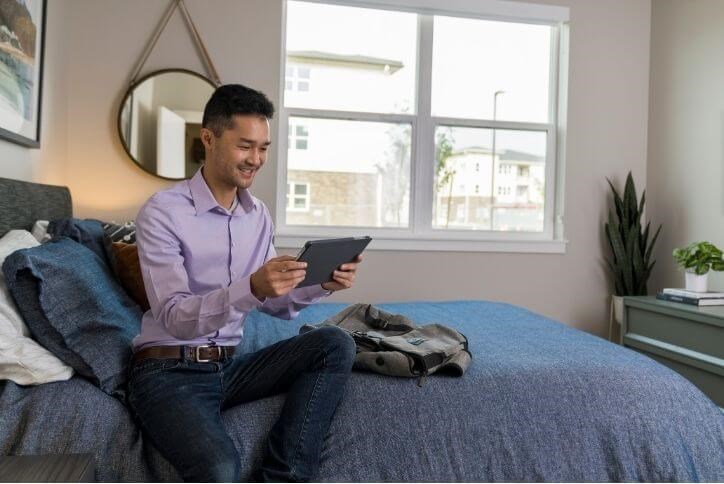 Is a Smart Home Right for Me?
Buying a smart home doesn't have to be overwhelming, even if you're a first-time homebuyer. In Reed's Crossing, our master-planned community makes it a breeze to buy a brand-new home with smart capabilities. Easily integrate cutting-edge technology into your everyday life and enjoy the convenience it will bring!
1. Complete control wherever you are
It doesn't matter whether you're out and about or at work, as long as you have access to the Internet, you can control your smart home technology remotely. Manage your full suite of home devices from your computer or mobile phone, which connects all of your home technology with one interface. Being able to tap into numerous devices and functions throughout your home is a huge advancement for home management.
Think about the household functions you want to control remotely or automate. A smart home system consists of basic and every day functions. You have the flexibility to add new devices and functions. Want to add a smart assistant like Amazon's Alexa? Not a problem. Adding new appliances and devices is easy with a Reed's Crossing smart home. Check out some of the smart appliances on the market today:
2. Maximize your home's security
One of the major advantages of smart homes is that they are built for safety. There are many options for securing your home including smart cameras, smart locks, and automated motion detectors, like the ones mentioned above. If the security system is compromised in any way, you'll be alerted immediately, wherever you are. Have peace of mind knowing that you can monitor activities in real time.
3. Save money on your home bills
Having remote control of your heating and lighting is definitely convenient. If the temperature rises into the hot zone, instruct your house to cool down before you even get home. Forgot to turn your lights off before leaving the house? Switch off the lights from your phone. Having this accessibility can also save you money on household bills. Increase your home's energy efficiency by maintaining more precise control over the thermostat. A smart thermostat will learn your energy preferences and adjust the temperature accordingly throughout the day, so you don't have to bother with it (unless you want to). That means no more wasted energy in your home!
4. Improve the efficiency of your appliances
Smart home technology can help you manage appliances more efficiently. Burnt cookies are a thing of a past. If you need help in the kitchen, a smart oven will cook your food optimally. Need to record your favorite TV show? A smart TV makes sure you never miss an episode. Installing a smart audio system will ensure seamless music selections when entertaining guests.

Want to take your home into the future? Each home in Reed's Crossing offers smart home technology to reduce energy consumption while greatly increasing convenience for those who live there. Make an appointment today to stop by our Welcome Center!
Want More Information?
Please click below to contact our team and we will be happy to answer any questions you have!
Contact Us
Categories