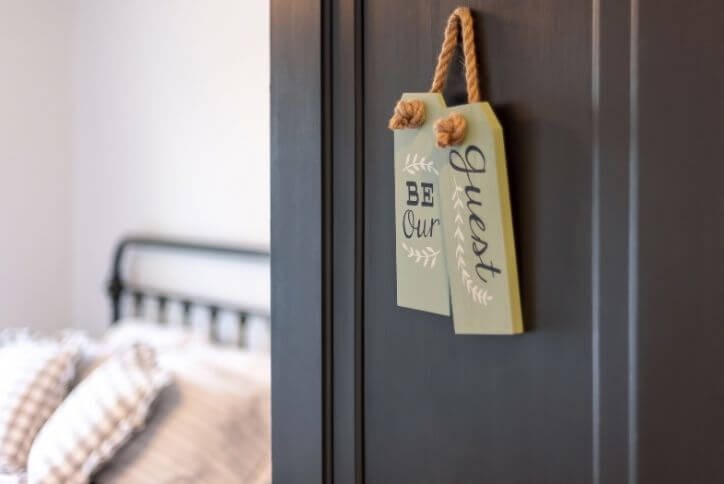 Curating a Welcoming Guest Room
If you're fortunate enough to have a spare bedroom, chances are you'll be filling it with loved ones at some point during your run as a homeowner. Part of being a gracious host is imagining how your visitors will feel when they set down their bags and step inside their home away from home. Beyond fresh linens and fluffy towels, it's the mix of thoughtfulness and comfort that you allot, that makes for a truly memorable stay. After the "let me know if you need anything" is uttered and the door is shut, it's natural for your guests to begin exploring. Here are a few tips to ensure your guest room radiates a welcome feel.
Clear Some Space Keep personal effects and delicate tchotchkes to a minimum. Make sure your guests have plenty of room to spread out during their stay. Empty several dresser drawers for your visitors to unpack and make sure there are plenty of empty hangers in their closet. An empty trunk works as an impromptu luggage stand and can also double as extra storage. If there's no closet attached to the room, a clothing rack, armoire, or even a few hooks on the wall will give them space to hang their clothes and stash luggage.
Welcoming Information Print out a note card with your home's Wi-Fi password, phone number, address and alarm code. If they're staying a few days, supply them with a spare house key on a stylish key chain so they feel free to come and go as they please.
Supply the Essentials Save your guests the trouble of having to ask for common items they may have forgotten. For easy access, equip the nightstand or another table in the room with bottled water, aspirin, tissues, and anything else you think they may need during their stay. Make sure you free up at least one outlet in the guest room for easy charging access. If you want to give your visitors a truly luxurious experience, stock your guest room with all the amenities of a five-star hotel. Provide proper task lighting for night owls, ample reading material, travel sized toiletries, and even include healthy snack options in case they get hungry in the middle of the night or before breakfast.
Make it Cozy Temperature preferences change from guest to guest and most won't realize that they're too hot or too cold until everyone is already in bed. Make sure plenty of options are within easy reach. Top the bed with fluffy pillows and throws, a thick duvet, and soft sheets to ensure that your guests get a good night's sleep. If you live in a cold, wintery climate, make sure there are plenty of extra blankets available. Add a touch of glamour to the guest bed with a plush throw in a luxe fabric like faux fur or shearling. Store extra blankets along with a small space heater and fan in the closet. Hang a couple fluffy robes on hooks for added luxury.
Light Their Way Remember, that while you are easily able to navigate your home in the dark, your guests may need some extra help. Make sure there are nightlights placed thoughtfully in hallways, bathrooms and in the kitchen.
All About Ambience A spare bedroom can easily feel stale so breathe new life into the space by adding a bit of greenery into the room. Fresh flowers are always an inexpensive yet welcoming accessory in a room and potted plants will naturally cleanse the air and make the room appear cared for. The simple addition of candles can majorly improve the ambience of a space and add a flattering ambient light. For cozy vibes, opt for classic scents like lavender, peppermint, and vanilla. Make sure to take allergies into consideration.
*Pro Tip If you can manage it, splurging on a cleaning service before your first guests and after your last guests leave, is an amazing gift to yourself. The peace of mind you'll receive from a spotless home is well worth the cost.
Want More Information?
Please click below to contact our team and we will be happy to answer any questions you have!
Contact Us
Categories