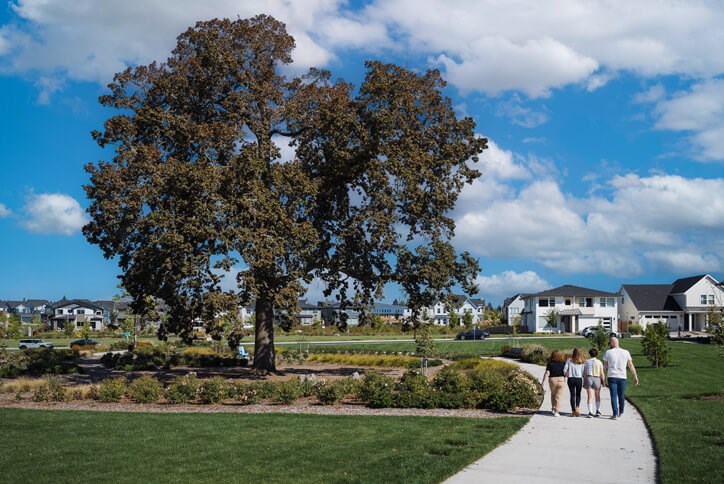 Walkable Neighborhoods That Work
Did you know that Reed's Crossing was designed around the principles of New Urbanism? Developed in the early 1980s, this progressive, popular design movement focuses on the "lost art of place-making" to create neighborhoods designed for how people really live. Encompassing ten basic rules, from walkability to a wide range of housing types, the tenets of New Urbanism all lead to one place: building a sense of community.

What is New Urbanism?
New Urbanism focuses on the planning and development of cities and towns – literally, how they are built – taking cues from the close-knit design of European hamlets. High priority is placed on public space, with streets designed to accommodate multimodal transportation, including walking, cycling, public transit, and driving. New Urbanists are passionate about creating sustainable, human-scale spaces where people can live happily and healthily. 

Some key characteristics of New Urbanism that Reed's Crossing embodies are:
Most homes are less than a mile from the center
Variety of home types and styles
Shops and services to supply the community's needs
An elementary school close enough for children to walk to
Playgrounds that are accessible to every home
Streets connected by a variety of routes
Walkability of the neighborhood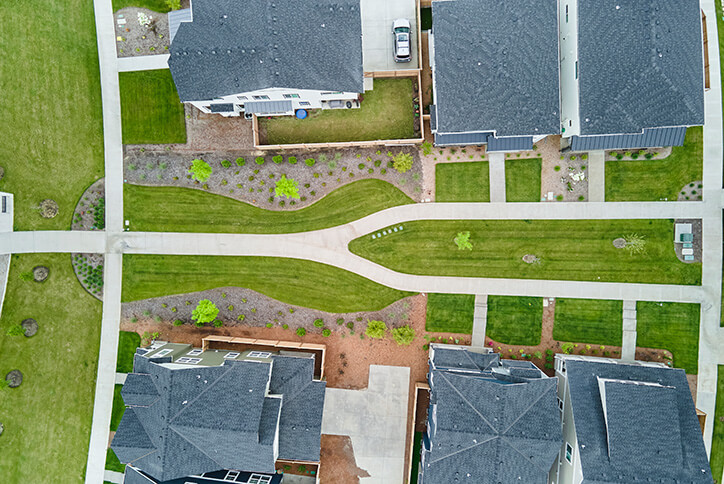 Examples of New Urbanism
Much like Seaside in Florida – the first and best-known New Urbanist community in the U.S. – we've brought the movement to South Hillsboro through our unique model called Thrivability. And, like the New Urbanist principles outlined above, we have our own checklist of what a community should look like: 

1. Walkability & Accessibility
Due to the relatively small acreage of Reed's Crossing, nothing within the community will be more than a mile from anything else. You'll also never be more than ~5 homes away from a walking path, thanks to an interconnected network of multimodal paths that give you access to everything the neighborhood has to offer. 

2. Variety of Home Types
You may think that all homes in the suburbs look the same, but here it's simply not true. Five unique home builders help create diverse streetscapes, with angular homes from Japanese builder Ichijo sitting side by side Pacific Northwest styles from Stone Bridge Homes NW and more classic designs from David Weekley, Lennar, and Richmond American. With a range of home types for sale or rent, from single-family homes and townhomes to duplexes, triplexes, apartments, and senior residences, there is truly something for most everyone. 

3. Shared Open Space
Unlike many master-planned communities, Reed's Crossing is designed with 4x the required amount of open space. We currently boast five parks: Tamarack Park, Dobbin Park, Oak Grove Park, the Nature Education Area, and the 23-acre Greenway that runs through the center of the community. The next big park opening, planned for this year, will be a city park designed to include community gardens, an amphitheater for events, a boulder-climbing area with 12' high boulders, a dog park, and more.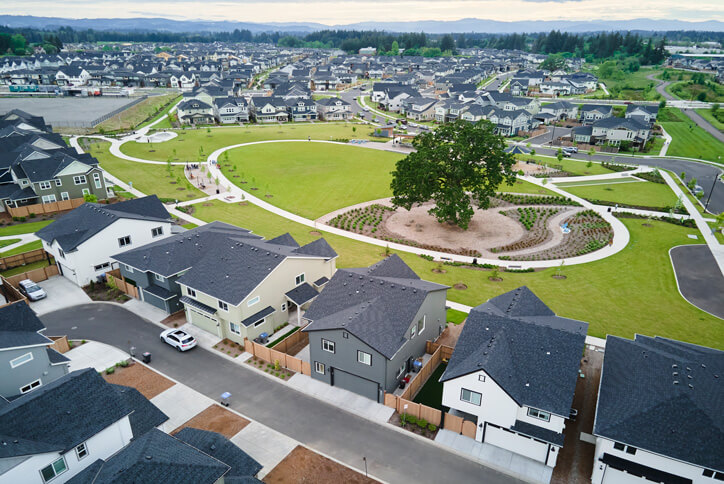 4. Shops & Services
The Reed's Crossing Town Center, already home to a new Providence Health Center; Active Wellness Center, a state-of-the-art gym; and The Ackerly, a residential option for older adults, will also include a new Market of Choice to offer convenient grocery shopping less than a mile away from every home in Reed's Crossing. When complete, the Town Center will include shopping, dining, services, and office space with multi-family housing above.

5. Schools & Playgrounds
Tamarack Elementary School, the newest addition to the Hillsboro School District, is planned to open for the 2023/24 school year and be close enough for children who live in Reed's Crossing to walk to, along with a variety of playgrounds that are accessible to every home.

6. Environmental Responsibility
Featuring energy-efficient designs that are solar- and electric charging station-ready, all homes at Reed's Crossing require an Earth Advantage Silver or equivalent rating. The community features drought-resistant Eco-Lawn™ in most areas, and a minimum of 250 trees will be planted each year. We also reuse materials where possible, with reclaimed walnut and oak providing bench seating and more.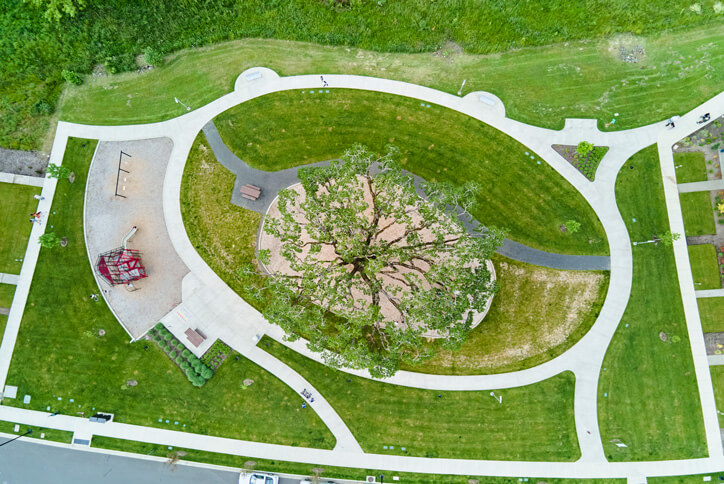 Benefits of new urbanism
Up until the mid-20th century, neighborhoods were extremely walkable. Then, as public transit began to expand, low-density single-family detached homes became the preferred dwelling for the growing middle class. This led to a separation between where people lived and where they worked and shopped, leading to a strong dependence on cars. 

Progressive architects began to call for change, asking planners to reconsider sprawling, car-dependent designs in favor of smaller, close-knit communities. Over forty years later, the principles of New Urbanism closely align with what modern homebuyers want from their neighborhoods, paving the way for the development of sustainable, inclusive, and accessible spaces where people can truly thrive. 

Still have questions about life in South Hillsboro? Take a virtual tour, come by for a visit, or sneak a peek at what's in store for the future.
Want More Information?
Please click below to contact our team and we will be happy to answer any questions you have!
Contact Us
Categories