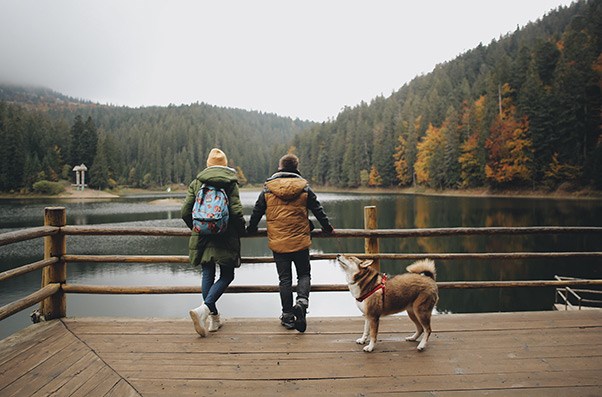 Slowing Down: 5 Tips for Fall Wellness
In eastern medicine, fall is regarded as a time to pull our energy inward to prepare for winter. Thankfully, we don't need to curl up and hibernate just yet! Autumn is the perfect time to set new intentions for self-care, begin a new wellness routine or revamp old practices. The holidays will be here before you know it and prioritizing how you care for yourself and your family will help you stay on track during those even busier winter months. 
Nourish Your Body with Seasonal Food. During this season, the body instinctively gravitates toward cooked meals, earthier foods, rich scents and warmer colors. Stop by your local farmer's market for tasty seasonal produce. Choosing locally grown foods will give you and your family the most nutritional boost since the time between picking and eating is shorter. Fall favorites such as apples, broccoli, beets and squash are healthy and delicious complements to a meal or snack that will fuel your body. Cabbage, eggplant, kale, pumpkin, broths, and sautéed dark leafy greens are all great choices. Pumpkins contain vitamin A, fiber, potassium and phytosterols. These nutrients support vision, aid in weight loss and have been shown in studies to reduce cholesterol. Freeze what you can't eat right away so that your family can enjoy them throughout the winter. Set aside a few hours each weekend to prepare some of your favorite foods for the week. This is a great way to take care of yourself and your loved ones, align with the inward energy of the season and bonus, you'll have food to bring to work, or the kids to take for lunch for most of the week! 
Spend Time in Nature. Fall is one of the best times of the year for outdoor exercise and play in the Pacific Northwest. The summer heat has dissipated; the air is crisp; leaves are transforming into canopies of orange, gold, and red and feel satisfyingly crunchy under your feet. The moderate temperature is a gift before the PNW rain in upon us! What better season to throw on a beanie and head outside? Plus, spending time outdoors increases your vitamin D levels, makes you happier and improves your concentration.
Get Plenty of Rest. Sleep is essential to keeping us grounded, happy and healthy. Honor the change in season by aligning with the natural cycle. Studies show that over time, lack of quality sleep impairs the immune system which makes us more susceptible to colds and viruses that frequently float around during those cooler months. Not getting enough sleep has also been linked to low energy and weight gain. Ideally adults should get 8-10 hours of sleep per night regardless of the season and may even need more during colder months. However, it's important to take into account that we are all different. Experiment with your sleep over the next few weeks and see what works best for you. Naps are also a great way to build some rest into your schedule. Bottom line, try to get as much rest as possible to replenish and renew yourself this season. 
Start Taking a Vitamin D Supplement. We get most of our Vitamin D from the sun, so naturally our intake decreases in cooler months from spending more time indoors. Vitamin D increases fertility, keeps our bones strong and supports the immune system. If you find you are not getting outside much, a Vitamin D supplement can boost your mood and immune system! 
Take Some Time to Yourself. Spend a quiet afternoon in with a book, sip a cup of tea, practice yoga or sit quietly and reflect back on your day. There are so many ways that we can connect to ourselves and think about what gives us joy. Autumn invites us to slow down and see what positive changes we can bring about to our lives. 
Want More Information?
Please click below to contact our team and we will be happy to answer any questions you have!
Contact Us
Categories