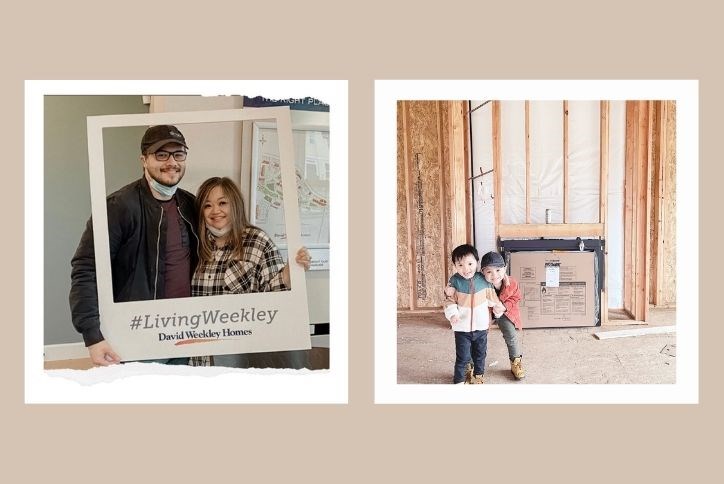 Meet the Schmidts: How a House Becomes a Home
For a first-time homebuyer who wants to commemorate every special moment of the experience, what better outlet than social media? Recently, we sat down with new Reed's Crossing resident Jessica Schmidt, who documented the eight-month journey of buying and building her family's new David Weekley home on Instagram – so she could share the joy and excitement with friends and family around the globe. 

Tell us a little bit about yourself. Have you always had a passion for design? 
We are a family of four, plus two fur babies. I was born in the Philippines and my husband, Michael, was born and raised in Beaverton. Our oldest is six years old, and our youngest is four. Design is 100% a passion, and something I have always cared deeply about. 

Why did you choose to buy at Reed's Crossing?
We had been renting for the last decade, trying to make all these temporary spaces feel like home, when we decided to make our first home purchase. As renters, we'd lived in places that needed a lot of work and it was a nightmare, so we knew we wanted new construction. Our original plan was to stay in Tigard, but we just couldn't find a place that felt right. We really wanted to make sure we had the space to spread out that our dogs and our boys deserved, but we also wanted a feeling of community. 

Then we found Reed's Crossing, and it just checked all of our boxes. And, on top of everything, we had five different builders to choose from! I was so surprised when I saw the range of homes available; the floor plan options seemed endless. We knew right then that we had found our perfect fit.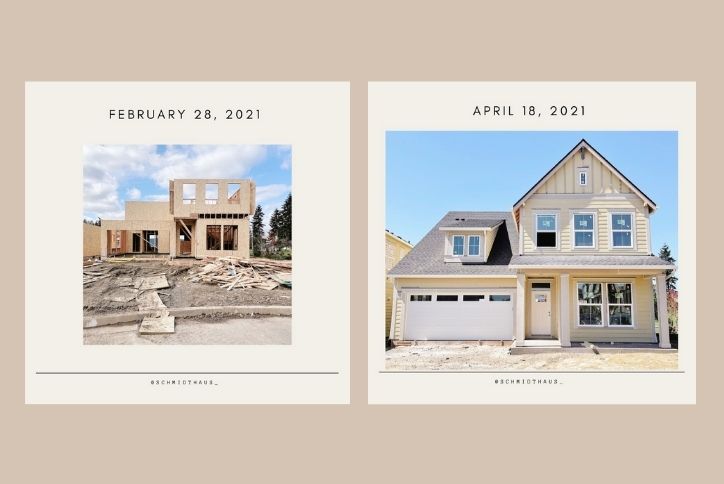 What inspired you to document the process of buying and building your new home online?
I have always documented everything, as long as I can remember; I really enjoy being able to go back and relive those special memories. It's so easy to forget the little details, and I want to preserve them forever. We are the first ones in our immediate family to go through the process of building a new home from the ground up, so I thought it was an awesome journey to document for our family and friends – and they could learn right along with us!

Do you receive a lot of feedback, or questions, from your audience?
Yes! Everything that I post on Instagram, I also share on my personal Facebook page. It has been so special to be able to share with friends and family, get peoples' feedback and opinions, be able to help others who are going through this process, and have people encourage me to keep documenting and sharing.

What drew you to David Weekley Homes?
Honestly, we walked into the model home and I just knew. Outside of Reed's Crossing, the builders we had spoken to seemed very much like, "This is what you get," without a lot of options. But here, the builders are happy to work with you to create your perfect home. David Weekley is one of the semi-custom builders at Reed's Crossing, but even before we looked at flex changes or upgrades, we found a home that met our needs as a growing family. Not to mention that their designs are just beautiful!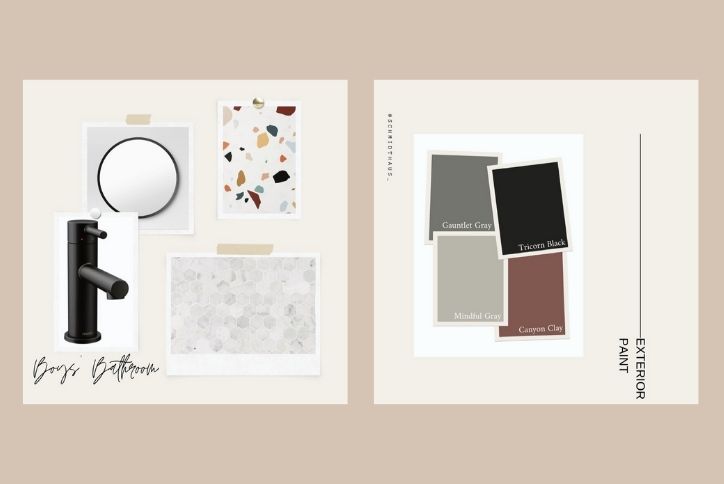 What is your favorite thing about your new home?
That it's ours! I know that sounds silly, but being able to go through this build with our boys has been so special. Every Sunday, we made a "Weekley" visit to our lot and every week we just loved seeing their eyes light up. The framing and building of the boys' bedroom was one of my favorite parts – they seemed to instinctively know it was theirs. Also, I love the idea of having our own space to make new memories and traditions. We are very close-knit, and all of our immediate family live in the area, so I love that we finally have a space for everyone.

If you could share one piece of design advice, what would it be?
Trust your gut, know your heart, and go for it! There were a few times I worried that my choices were too bold, but I quickly let that go because, ultimately, it doesn't matter what anyone else thinks. All that matters is how it makes you feel. After all, you're the one who has to live there!

Another thing that helped me was a lot of research – particularly around how easy (or not) it would be to change something later. Then, when it came time for our builder design meetings, we felt more confident about our decisions regarding what we wanted to get done early in the process vs. what we were okay waiting on.

Anything else you want to share?
This whole process was a whirlwind, but if we had to do it again, we absolutely would! Our David Weekley team was fantastic to work with; any time I had a question or concern they were always there to help. We were never left wondering "what's next," which was crucial to us as first-time homebuyers doing a new build. We just feel so grateful to be here and look forward to continuing to make our home at Reed's Crossing.

If you're interested in learning more about our new-home community in South Hillsboro, take a virtual tour, check out a wide selection of home styles from all five builders, or take a peek at what's in store for the future, including the planned Reed's Crossing Town Center.
Want More Information?
Please click below to contact our team and we will be happy to answer any questions you have!
Contact Us
Categories